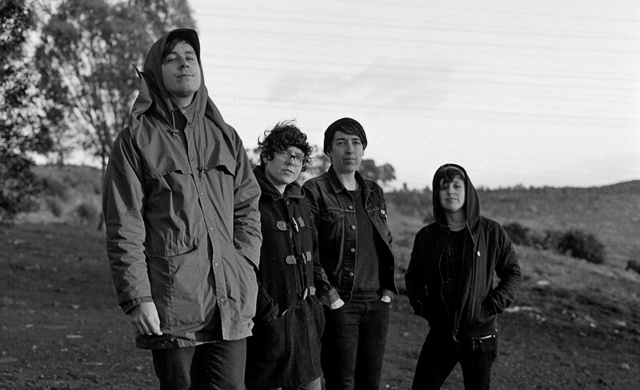 Blerg Bangers – November 20
---
Every week we collect a new batch of songs for your listening pleasure – plus a classic that you should definitely know and love. Here's this week's Blerg Bangers:
Deep Heat – 'Sleep'
These Melbourne post punks have always had that crucial ingredient that stops them from being just a post punk band and makes them a great post punk band – melody. They know how to lace their songs with the slightest hint of pop to make the poison go down. With drunken 80s new wave vocals, crushed bed frame drumming and a molten larva bass line, it's the stinging guitar that sneakily weasels in a seductively hooked line of melody that drags through the songs murkiness.
InTechnicolour – 'Lend Me A Crushed Ear'
The influences are pretty obvious from those opening guitar chords. In fact it's an opening that I think KYUSS or QOTSA would equally be proud of. And there's more than a tusk of Mastodon's slightly buried / totally grandiose vocal stylings tossed in for good measure. But when a song like this lands on you like a truck load of sludge, who cares which depot it left from. The fact that it just careened into your brain at 150km/h is all that really matters. So hold on, let it wipe you the fuck out, and then you can pick up your brain lumps off the ground later.
Caroline Polachek – 'The Boy Who I'll See Again'
Chairlift front woman Polachek has one of the great voices in modern pop music and this gorgeous, classically inspired solo release shines even more light on that fact. Inspired by the Greek myth of Endymion, the song floats like it's been released from a classical opera – but with tiny, devastating electronic touches to give it a modern context. One of those tracks where you need to just lie down, close your eyes, press play and let it wash over.
RÜFÜS – 'Innerbloom'
I honestly think that 90% of EDM or internet music is pretty much the same bullshit. So when you hear a track like this – a song that doesn't lazily utilize the same Flume-esque tropes in a slightly different order, and instead utilises an array of tantalising textures and pacing to build a real sense of tension and release – you can't help but snap out of the malaise and pay attention. Its composition is subtle, controlled and soulful and delivers intriguing twists along the way turns along it's almost 10 minutes (!!!). It definitely ranks them alongside Caribou as electronic artists trying to make music with a little bit more depth and for that they should be championed.
Fuzz – 'Pollinate'
Ty Segall has pretty much reached a place where he has a signature sound, no matter what outfit he plays in. It's almost like we took a giant dose of mushrooms the first time we listened to him and every time we hear something that contains his fingerprints we're sent on an instant trip back into that first, earth-shattering high. And it's sound that's tattooed all over this latest Fuzz track.
"Thundering" is an adjective I lazily utilise to describe drumming way too often, especially when I come to a song like 'Pollinate', where the clouds are actually being shaken from the heavens with a couple of wooden sticks and a kick pedal. Meanwhile lighten bolt guitar lines singe the hair in my hairs and the vocals howl through my brain. It's a shit storm of rock and I'm not gonna bother to batten down the hatches.
Miracle Legion – 'All For The Best' [Classic track]
For an act that drew a lot of comparisons to R.E.M. throughout their career (you can definitely hear similarities in the vocal harmonies at times) Miracle Legion have a beautifully gentle and unique style of songwriting that is very much their own and fearlessly and seamlessly incorporates a surprising amount of elements. Whether that's the luscious alt country-esque moments of the verse or the burning post punk guitar lines between the chorus and verse, even the sleepy little harmonica line towards the end – it's a sound and approach that isn't easily attributed to any other modern rock act.. Meanwhile Mark Mulcahy's vocals remind me a lot of the likes Strand Of Oaks and even Wilco at times, with a really controlled delivery style where you can tell he's singing within his range for effect. It's a dog's breakfast of a song, but luckily for Fido, today he's eating a mix of steak Dianne and salmon.