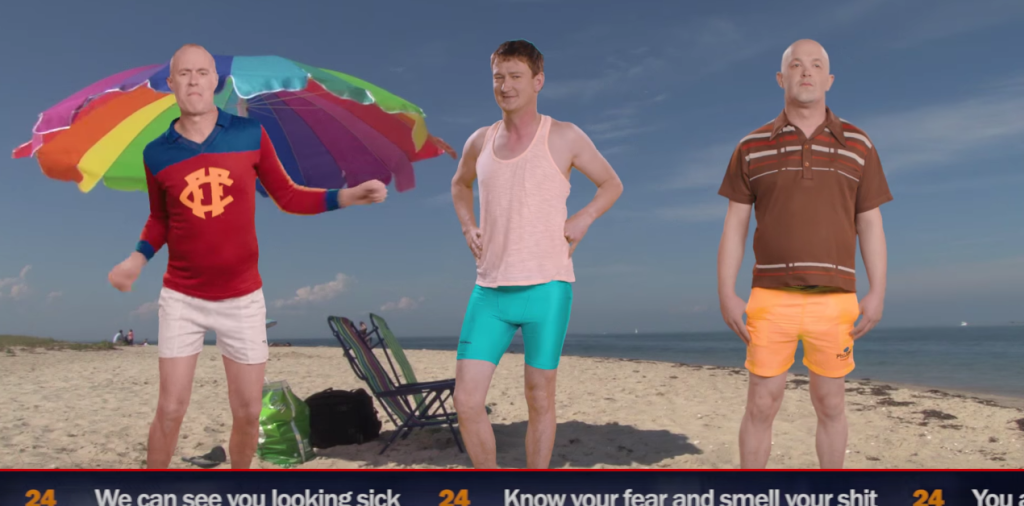 Blerg Bangers
---
Every week we collect a new batch of songs for your listening pleasure – plus a classic that you should definitely know and love. Here are this week's Blerg Bangers:
The Peep Tempel – 'Rayguns'
It's kind of difficult to qualify what makes The Peep Tempel so deadly. It could be that they arrived at fame and acclaim late – clearly haven worn lives for themselves and experienced shit actually worth putting into songs. It could be the fact that all three of them know that they could kick the shit out of anyone that tried to job them in every venue they play. It could be that they know the whole "popularity" thing is a bit of a pisser, and that they can't believe they're getting away with all these hipster dip shits and blog pricks waxing lyrical about them when in reality they're just playing no bullshit punk rock with energy and anger. I can't put my finger on what it is, but you can see those thoughts creep over each member's face in the video for 'Rayguns', and all the while they're ripping your eardrums out with a track that is as angular and brutal as it infectiously rhythmic and surprisingly melodious. One minute wind-chime from hell guitars make you want to rip your headphones off, the next they fall into a groove that sucks you in till the end.
OR
"Lament the severity of Swanny's hammy." Fucking brilliant.
Unity Floors – 'Give And Take'
Sydney's gentle dudes of indie rock frustratingly release records with the consistency of Curb Your Enthusiasm seasons, but thankfully they've gone through a purple patch and are poised to return with Life Admin  on Pop Frenzy Sept 23.  Thankfully, just like Larry David, their time in absence has only enhanced the final product, and had zero effect on their ability to write beautifully sloppy, hook-driven, garage power pop. 'Give And Take' even has a little classic rock and roll flavour to it – the kind of energy and a pacing with which you could take your squeeze out on the dancefloor for a spin. I look forward to singing along to it as beer gets spilled on me at pubs everywhere in Sydney after its release Friday.
The Do Yo Thangs – 'Indecisive'
I had an hour to discover songs for a local funk playlist earlier this month, and the first band I came across on the interweb was this jam from Melbourne's The Do Yo Thangs, and you better believe everything else I found afterwards was a dissapointment in comparison. The grooviest, soul-drenched burner I've wrapped my ears around in years, it flows through me with an energy that makes my legs kick and my hips wobble. A mixture of West Coast G-Funk elements, with a swirl of international pop that feels like it lands somewhere in the 70s between Asian rock and African funk, the chorus melts it all together with harmonies that descend from the heavens like a rocket ship fuelled on good vibes.
King Creosote – 'You Just Want'
King Creosote and Jon Hopkins' 2011 record Diamond Mine is still one of the most beautiful records I've ever listened to. It was a stunning collaboration of folk and electronica, mixed with field recordings that transformed wonderful pop songs into cinematic sonic tapestries of life in rural Scotland. I've lost touch with Creosote's music in the interim years, but stumbling across this new release, I couldn't be more surprised or thrilled by this new direction. Taking equal influences from Americana and traditional Celtic folk, 'You Just Want' teeters on the edge of psychedelic, and would have been served up piping hot and delicious on a Black Mountain record. I feel I should be listening to it while contemplating life's mysteries in a long, whiskey-soaked train ride through the Scottish countryside. In the meantime, I'll just chug Oban at home in Marrickville and let the notes of this stunner float me away.
Best Coast – 'The End' [Classic track]
First impressions always last the longest, don't they? And despite the formidable career they've built for themselves as hipster icons (and in Bethany Cosentino's case an impressive voice of feminism/equality in the modern music industry) in the last few years, it's hard to look past Cosentino and Bobb Bruno's debut album as their greatest. And despite it being a record bursting with singles, 'The End' always delivers a gut punch to me in the feels. From it's "coo-ing" intro, to its charmingly simple girl loves / misses / can't have boy lyrics, it's a pure, concentrated dose of everything that made Best Coast and their sunny, nostalgic, reverb buried and simplistically genius music such a top shelf trophy winner in the first place. I still want to pack up my shit and fly to California every time I hear it, but for now I'll lust for palm tree dotted coast lines like she lusts for that lost love.