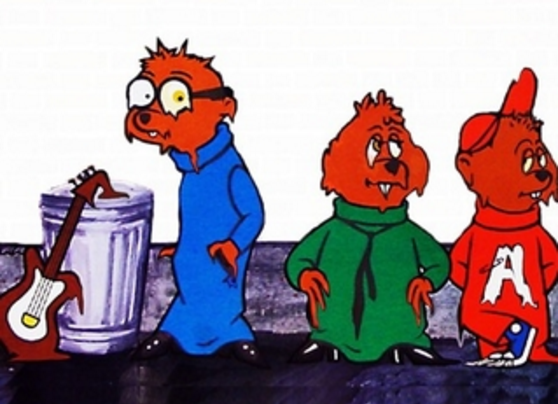 Blerg Bangers – November 6
---
Blerg Bangers is our new weekly Friday column where we bring the best songs we've discovered in the previous week. We promise to deliver an eclectic and interesting list of material guaranteed to make your ears prick up and hopefully find some of your new favourite artists.
Chipmunkson16speed – 'Call Me' [Blondie cover]
Slowing down classic records in the past has had some hilarious and thrilling results, but this latest release of a classic, underground Chipmunk's record where they cover punk classics and slowed down to 16 RPM is something else. The resulting sonic manipulation is pure, industrial doom metal and its eerily satisfying – from the haunting vocals, to the tinny, mechanical drums, and the mud-caked guitar chords, it sounds like something ripped straight from a Black Mountain record. Thanks for this amazing discovery goes to Holy Fuck's Brian Borcherdt who's weird experiment made something truly, magically dark and delightfully disturbing.
Chris Stapleton – 'Tennessee Whiskey' [George Jones cover]
Not a new single in any way, in fact it's a cover of a George Jones classic, but definitely worth celebrating this week after Stapleton's triumphant night at the CMA Awards yesterday (read more about that here). One listen to this and you'll be running to the liquor cabinet and getting ready for the weekend.
Weak Boys – 'Dog Farm (original 'Encyclopedia of Dogs' Bong YZA Solo Version)' [starts at 12:42]
After releasing one of the surprise best records of 2014 in Weekdays/Weekends, Sydney's the Weak Boys are in the midst of readying their highly anticipated follow up record. In the meantime, however, their label Strong Look Records has churned out this drinks break mixtape featuring an eclectic mix of artists on and adjacent to the label, including this early demo version of Weekdays/Weekends highlight 'Dog Farm.' The stripped back version finds the band smack bang in Lou Barlow / Wooods territory, with a much more delicate ambiance featuring snapped beats, acoustic strums and a summery, joint smoke breeze floating through the mix. Blasphemous for me to admit, but I prefer this version to what ended up on the record.
The Ocean Party – 'Greedy'
Melbourne via Wagga's favourite post dolewave outfit's latest single 'Greedy' is one of the more out there numbers from their fab fifth record Light Weight, and encapsulates a post-dollwave Chills meets The Saints meets The Go-Betweens kind of cocktail. Post punk verses, melody drenched choruses, and zippy guitar solos, it's melancholic and joyous simultaneously, just like the goths on holiday in its video.
Christine & The Queens – 'Pump Up The Jam' [Technotronic cover]
C&TQ's Héloïse Letissier is going to be a fucking superstar. She already is in her home country of France, but now the brooding pop sensation is starting to make ripples internationally and it's footage like this that explains why. She's already been pursued by Justin Bieber and Carly Rae Jepsen's management, but was snapped up instead by ultra cool label Neon Gold. Singles like 'Jonathan' prove that she's got the musical chops to match it with some of the biggest names on the planet, but when she can pull off a cover like this – and match it with those out of control dance moves… holy shit. Brace yourself for a French invasion.
Le 6.11 sort la réédition, avec un DVD live. Je suis fière de ce spectacle : j'y ai mis tous ce(ux) que j'aime. https://t.co/N1AI8Pdto1

— Christine&theQueens (@QueensChristine) November 3, 2015
Quilt – 'Eliot St.'
I've always unashamedly loved ELO and to hear that influence pouring through on contemporary music like that of Quilt just gives me happy goosebumps all over. There also tinges of the kind of California psych-punk movement endorsed by Ty Segall and Mikal Cronin in that thuddy bass drum and bass sound rhythm – and of course the space folk of John Lennon (that's a gimme), but all those influences simply result in a swirling rainbow of pop music that winds its way in one ear, twists your face into a permanent smile, and soars out the other.