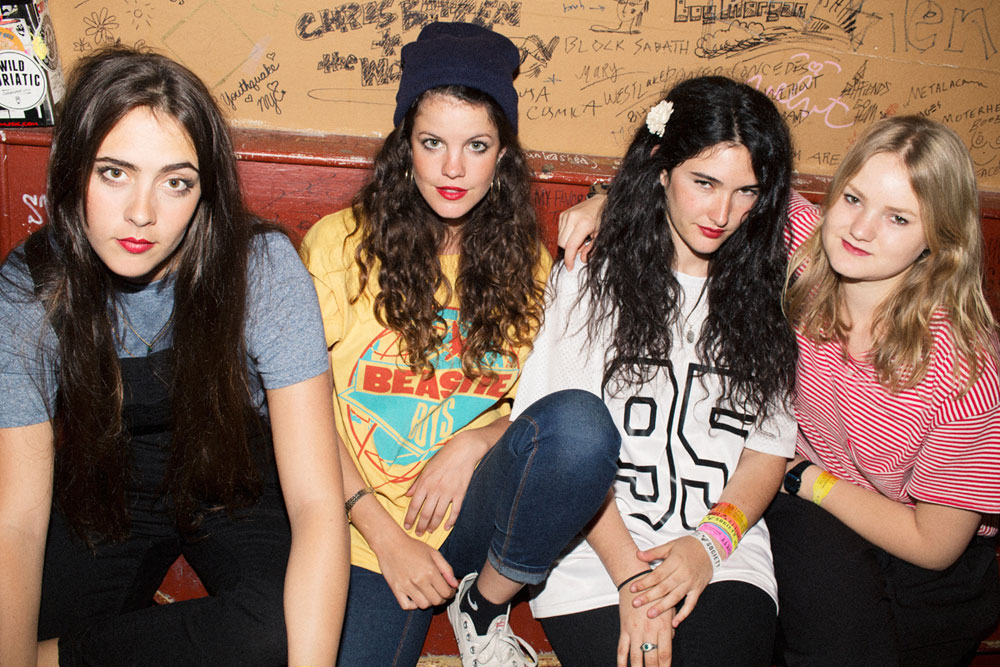 Blerg's most anticipated albums of the year
---
We here at Blerg kind of skipped making any end of year best of lists because a) everyone else was doing it for us, b) we were enjoying our holidays, c) we were busy watching Making A Murderer.
So instead, I've pulled together this tidy little list of albums we're super excited to be coming in the new year. There's a bit of everything in here, as well as plenty of stuff that I've missed out that I'll be writing about later in the year, but believe me when I say that with a starting pistol bang like this one, 2016 is already shaping up to be a barnstormer of a year for tuneage.
The Wrens – TBC
Waiting for Wrens albums has become a major part of Wrens albums. Even their website pokes fun at the incredible lengths of time the cult hero New Jersey indie rockers have kept their fans waiting, with a line on their home page that bluntly but accurately states "Keeping folks waiting since 1989". But for those that have been holding on desperately since 2003, the year that the band's seminal / perfect last album Meadowlands was released, the wait looks just about over with the new record scheduled to be released sometime in the new year (we know it is at least completed!). But what stories does it hold? It's been more than a decade since they threw away their dreams and faced up to the fact that they were turning 30 and settling down. Now they've pumped through middle age, their kids have probably started bands that have released more music than their dads'. Whatever is in stock, we know that they've dedicated A LOT of time to perfecting it.
For fans of: Wilco, The Replacements, Pavement
Land Of Talk – TBC
The surprise record return of the year – Elizabeth Powell emerged from nowhere to reignite her fantastic Montreal indie rock trio towards the end of last year. She teased new tunes, and has been getting a real kick out of sharing throwback Thursday posts, so whatever was keeping her out of the music scene for the last five years seems to have eased its evil grip. I look forward to her stellar voice, her quirky lyricism and the stunningly underrated musicianship of the band to skyrocket once more.
For fans of: Liz Phair, Bully, Feist
Hinds – Leave Me Alone (8 January)
I'm terrified by how dangerously cool this band is. Like those bad arses rebels I went to school with in year eight, out drinking and smoking and making out while I'm just trying to get to maths on time. They have a razor sharp edge that makes you want to go tag the shit out of public property while listening to their sloppy brand of garage rock. They've already conquered a big chunk of the globe off the back of a few cheeky singles – including becoming the first Spanish band to play Glastonbury – and with a full record in their hands they're gonna be as unintentionally deadly as a cocker spaniel chewing on the trigger of an AK-47.
For fans of: The Black Lips, Deer Tick, Those Darlins
Money – Suicide Songs (29 January)
The Mancurian post Brit pop wall flowers have already released two devastatingly intimate and heart crushing singles in 'You Look Like A Sad Painting On Both Sides Of The Sky' and 'I'll Be The Night' that have lead me to shedding many a tear. The fact that this new record is titled Suicide Songs also leads me to believe that its promotional listening parties will be akin to a public screening of the documentary Dear Zachary (for the love of Christ never watch that film, you will end up hating this cold, bitter world we live in). But fuck, don't we just need to embrace the fucked up and sad every now and again? Just ask Elliott Smith. Well you can't, because, well…
For fans of: Augie March, Villagers, Blur
The Weak Boys – TBC
Sydney's post pop punk guys you see at the pub fairly often kind of took everyone by surprise with their debut record Weekdays / Weekends – one of the best local albums of 2013. Much like The Wrens they tackled the slog of growing older, getting fatter and realising your glory years were gone before you even realised they were here. But they announced it with such a wry smile and in a charmingly self-deprecating way, that it was like Louis CK had strapped on a Strat. It helped too that it had contributions from members of No Through Road and Dollar Bar – both great bands in their own right. But there was something special about the cake mix Weak Boys whipped up that had you coming back time and again to lick the beaters. We're looking forward to their Lifestyles Of The Rich and The Famous take on their newly found success.
For fans of: The Wrens, Presidents of the USA, You Am I
Luca Brasi – TBC
Tasmania's best pop punk outfit are set to reignite your teenage love for the genre with a whole new slew of emotionally and worldly conscious material in 2016 if latest single 'Aeroplane' is anything to go by. They've been the slightly overlooked band on the scene of the heralded Melbourne punk rock juggernaut, but I have a feeling 2016 will be the year where they'll take their rightful place in the spotlight alongside the mainlanders.
For fans of: Bodyjar, Jebediah, Frenzal Rhomb