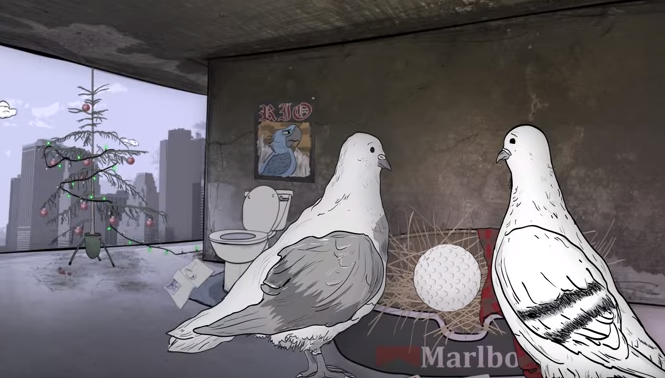 Filthy jokes, a seedy underbelly, captivating moments of humanity and the best soundtrack on TV – why HBO's Animals. is one of the best new shows of 2016
---
When I first wrote about HBO's animated comedy series Animals. last year, the appeal of the animated comedy series was undoubtedly the celebrity cast of voices.
Aziz Ansari, Nick Kroll, Mark Duplass, Katie Aselton, Ellie Kempler, Marc Maron, Ike Barinholtz, Jason Mantzoukas, Nathan Fielder, Paul Scheer, Matt Walsh, Chelsea Peretti, Zach Woods and Adam Scott – that's a literal list of the who's who of alt comedy. A comedy nerd's wet dream. A smorgasbord of smug laughs for podcast listeners and stand-up fans.
So it was always going to be a thrill when the Phil Matarese and Mike Luciano created / Mark and Jay Duplass produced vehicle that projects downtrodden, human personalities on to the personalities of animals and insects living in New York City finally arrived a couple of weeks back.
That being said, I did have slight reservations at just how all those names were going to gel. Would it be a master stroke of creativity and vision like The Big Lebowski? Or would it be an unmitigated career smudge – like Burn After Reading (anyone seen Hail Caesar yet?)?
However, in the space of three episodes,  Animals. has managed to not only already deliver on the promise that early trailers displayed, but surpassed said promise in ways that could never have been predicted.
For starters, the writing is outstanding. Although the humour is as satisfyingly vulgar, crude, awkward and ridiculous as hoped, it's also beautifully juxtaposed with moments of sadness, surrealism, banality and ridiculousness. For a show about animals, it's incredibly human in so many ways (you know that a publicist has said that somewhere on a press release somewhere, but it's totally true).
It's also incredibly sensitive at times, and paths the way for the exploration of a multitude of themes about life, death, sexuality, depression and more – much like Bojack Horseman proved to be an exercise in existentialism as much as it was dick jokes.
And that's not even considering that cut between awkward scenes of banter between mice, pigeons, caterpillars cats and more, is a lurid, pulp fiction story-line about background human extras that looks like it was ripped straight from Sin City.
And then there's the soundtrack, which in no uncertain terms, fucking rules.
Beginning with the appropriate title song, 'Animal' by The Men, the show's musical accompaniment is a collection of some of the best indie rock, pop and hip hop artists tearing it up right now, including the Fresh & Onlys, Porches, Mr Twin Sister, Porches, Shabazz Palaces, Chairlift, Speedy Ortiz and more.
You can (and I highly recommend you do) listen to the entire soundtrack now on Spotify (new tracks are being added with the release of each new episode). You can also hear all of said artist's amazing songs cut between all of said amazing scenes of Animals. now on Foxtel or at your nearest torrent dealer.