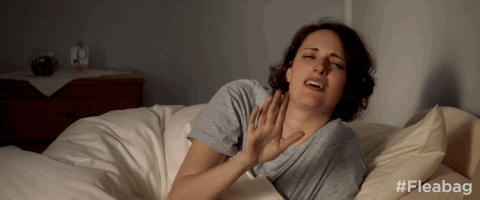 Fleabag Is Filthy, Mean and Quick Witted. Also, Your New Must Watch Series.
---
Oh what a joyous time to be alive (Trump's impending victory not withstanding).
There is so much good television in the world that we cannot keep up. Every day a newly created network (people are really catching onto this original content bizzo) unveils a newly created series and offers it up to us like a peasant desperately attempting to appease the Gods. "Please make this the 'fresh new hit of the summer, oh discerning viewership!'".
Amazon is doing a particularly  nifty job of picking up killer shows and Fleabag is certainly no exception. The series is spearheaded (by which we mean, written and starred in) by British actress Pheobe Waller-Bridge whom you might remember from wonderful Netflix whodunnit Broadchurch. She plays a young woman, known only as Fleabag, attempting to navigate life in London. Sounds pretty standard, yes, but some very good writing and removal of the fourth wall makes the narrative pop and groove very nicely indeed.
Fleabag is the black sheep of her family. The way she interacts with her uptight sister and deeply repressed and depressed father is awkward and incredibly sad, but offset nicely by her cheeky demeanour so as not to leave you too forlorn as the credits roll. Waller-Bridge sums up her character wonderfully, while also explaining why the show has been dubbed a 'feminist comedy';
"Fleabag's a control freak who wants to convince you everything's OK. It's a kind of tortured complexity that we've all felt – it would be described as 'mysterious' and 'sexy' for a male character, but can be labeled as 'difficult' or 'needy' from women. We have waves of contradictory feelings, but feel a responsibility to look like everything's in hand."
Also featuring one of our fave actresses of all time, the glorious Olivia Colman (Peep Show), Fleabag is a lot of fun to binge on. The can knock the entire thing out in one sitting
Fleabag Season One is available in it's entirety on Amazon now.