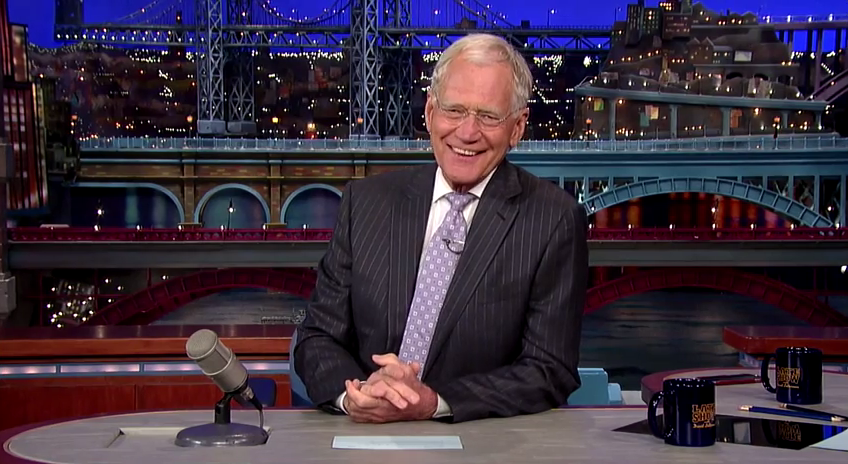 Goodbye David Letterman
---
This week marks the final ever episodes of The Late Show With David Letterman.
It's been years in the making now, but that doesn't make it any less painful, as is best articulated by these recent appearances on the program by Adam Sandler (arguably the best thing he's done in years) and Norm MacDonald, with both comedians acknowledging the huge impact Letterman had on their lives and both tearing up during their final appearances.
That Norm video, in particular, just kills me.
I personally first discovered / fell in love with Dave in the late '90s as a teenager, when I found that if I waited till midnight this weird and amazing show would pop up on Channel 9 and I'd be hooked for every second of it.
Well, not so much all the celebrtiy interviews, but the segments within the show always had me in stitches. The Top Ten List, the CBS Mailbag, throwing stuff off the roof of the Ed Sullivan Theatre, any segment involving the Hello Deli and Rupert Jee, when they used to send as many Santas into a coffee shop as they could – the list goes on and on and on.
The show was also crammed with spectacular musical performances, that in a pre-Youtube age, was one of the few places I could see my musical heroes perform live. I still remember At The Drive-In destroying the stage, Liam Finn pulling off one of the greatest multi-instrumental showcases I've seen, and this really stunning performance by Elvis Perkins, where the band literally grew larger and larger on stage:
I'm sad to say that I never got to be there for a live taping for the show. The only chance I had was when I was in New York when I was 21 and a CBS intern was on the street handing out tickets for the next night's taping. I was flying out that night. I'm still devastated I didn't stay just one more day.
But there was a particularly important moment for me for which Letterman will forever hold a place in my heart.
In the aftermath of September 11, 2001, when the world became a really terrifying place, particularly for teenagers who were gradually realising that the world they were set to become adults in would never be the same, it was Letterman that was one of the first shows to return to television and deliver the kind of heartfelt, warm and sincere programming we needed. The Late Show was a New York institution after all, and along with Saturday Night Live, there were no two programs more associated with the city.
So when Dave came out and acknowledged the horrific events that had stopped the world in the previous week, and then courageously began to crack jokes, it was like a weight had been lifted off my and a lot of people's shoulders.
Dave made us laugh when we needed it the most.
In the last few years, late night TV has ramped up in a big way, with the likes of Jimmy Kimmel and Jimmy Fallon largely taking the spotlight away from Dave. They became kings of the social media age and adapted their programming to the modern, fast-paced world of today's entertainment values. I feel guilty that during that period I largely abandoned Dave and the Late Show, but even without me staying up late to watch every night like I had as a kid, if I was ever switching through channels and came across his smiling, gap-toothed grin, I would sit there and watch the rest of the episode, because I knew I was always in store for a laugh.
I'll leave it here with Dave and his partner for many, many years, the criminally underrated comedic voice, Paul Schaffer, as one of Dave's final interviews as he talks about his favourite musical performances. Paul, I'll miss you tremendously too.
I never ever thought I'd say this in a million years, but Adam Sandler said it best, Dave – "You're the King of comedy. Our best friend on TV."