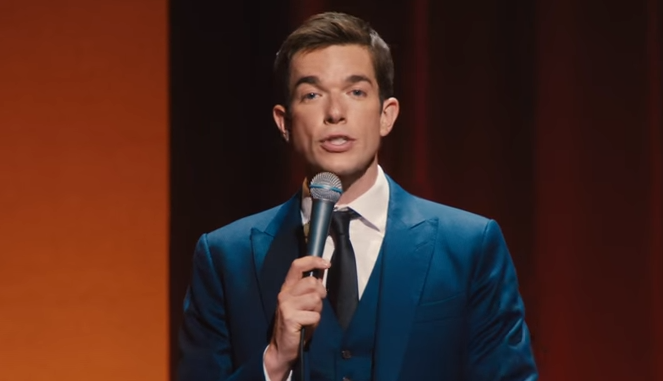 John Mulaney is back on top in The Comeback Kid
---
It's been one of the more disappointing failures in comedy in recent history.
John Mulaney, the former Saturday Night Live writer and rising stand up super star, was supposed to be the next big thing with the launch of his show Mulaney.
Sadly, the show was a flop – and having watched a couple of episodes it kind of deserved to. It was bad. Really bad.
But now Mulaney, who has expressed a lot of humility in recent interviews over the show's failure, is back doing what he does best in his new Netflix stand up special The Comeback Kid and he's reminding us all over again why we fell in love with his nerdy outlook on life in the first place.
Rather than drudge up recent history, the special captures Mulaney in his element – retelling hilarious stories from his past and ridiculous observations from his present with a charming, self-deprecating flair that drew fans and critics to him over the last five years and what ultimately won him his doomed TV stint.
Filmed in Mulaney's home town of Chicago, the special is actually shot beautifully (and was directed by comedian / director Rhys Thomas), and features music from LA maestro Jon Brion, giving the whole thing a classy feel to match the gorgeous surroundings of the Chicago Theatre, as you can see in the trailer.
As he has done in his previous brilliant specials New In Town and The Top Part, Mulaney focuses his comedic lens on his traditional 1980s upbringing, his weird relationship with Catholicism, his inferior relationship with his now wife, and his fish out of water observations of his new home city of New York – as well as breaching hilarious new topics like the fact that he's now bossed around by his adorable French bulldog puppy Petunia (who also makes a cameo in the special).
The special culminates in a terrific story about the time he met Bill Clinton as well, which serves as not only the inspiration for the title, but also a fantastic closing bit.
All in all, The Comneback Kid serves as the perfect reminder that John Mulaney is best when he's being John Mulaney, and that hopefully in the future he'll find a vehicle he can drive off of that talent alone.
The Comeback Kid is now streaming on Netflix and you can watch a segment of the show below: