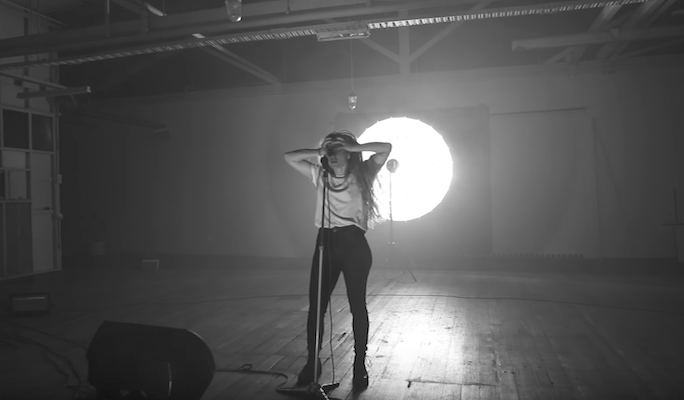 Melbourne's Press Club Kick The Fucking Door Down With Their Debut Single/Video 'Headwreck'
---
It's pretty incredibly rare that you can be five seconds into watching a music video, and already be fully aware that you're in for a wild fucking ride.
And yet that's all it takes for an intro title, a lifted camera shot, two guitar chords, a hammered drum stick, and a massive hair flick to explode together and catapult this brilliant single/clip into the stratosphere.
By the time you've reached the 0:05sec mark of Melbourne punk outfit Press Club's staggeringly good debut video for their debut single 'Headwreck,' you've already been kicked in the gut and sent hurtling across the other side of the room.
And unbelievably the pace of the clip nor the song lets up for its entire 2min and 40sec run, announcing the four-piece as one of the most powerful new Australian acts of 2017. With chiming, Japandroids-esque guitar notes, a thunderous rhythm section, and a powerful, powerful lead vocalist, there aren't a lot of elements within their four-part formula, but so much to sink in to and love.
According to their Instagram, 'Headwreck' is the "culmination of 9 months of writing, recording and filming in Brunswick garages and Collingwood warehouses." That painstaking work has more than pulled off its intended result though, as this is one of the best debut singles in recent memory.
A lot of that credit must also be attributed to the video of course. Directed by excellent photographer and musician in his own right, The Sinking Teeth's Nick Manuell, and expertly lit by Will Maconachie, this is a shining example of what a well-planned vision and strong aesthetic can create – and for what appears to be a sensible budget for a band's first video.
The way Manuell has managed to produce such frenetic pacing, while completing the entire clip in only one shot, is the absolute key to this result. As the band unleash their vibrant performance, the swerving camera works perfectly with the controlled strobe flashes – the velocity and angles within which the camera travels building a sense of urgency and high energy, all without the luxury of edited frames.
It's thrilling to see music and vision like this coming out of Australia – we can only wait with baited breathe to see what Press Club's next few moves will be. In the meantime they're set to perform a single launch party at the Old Bar (go the Unicorns!) on Saturday, July 8, alongside the fantastic Darts.
I highly recommend it.
Follow Press Club here.