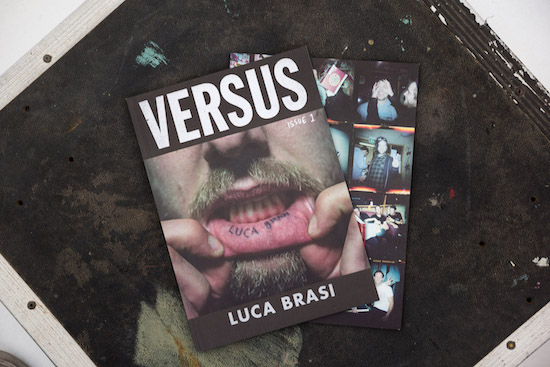 Netflix & Chill: Music Photographer Kane Hibberd's TV Picks
---
If you live in Australia and you like music, you've absolutely seen the truly excellent work of Australian photographer KANE HIBBERD in promo shots, album artwork, tour posters, or even in his killer book 'Kanye Lens vs Soundwave'. He's got a stupidly good eye for live shots, and is famously great at capturing  fly-on-the-wall inside shots that capture musicians' day to day working lives. Always pushing boundaries, Kane's newest project is a collaboration with MELBOURNE BITTER – a real classy looking FREE print zine titled 'VERSUS'. Issue 1 follows Blerg favourites, Tasmanian melodic punks LUCA BRASI on their sold out album tour earlier in the year. And as everybody knows how much those legends love a cold one, so the photos are suitably wild. Sound good? Head over to to versuszine.com to suss out where you can get your mits on a copy for $0. But, enough from us, we'll let the man himself take over proceedings from here with his picks for our other preferred visual medium: television.
What a time to be alive, own a couch, a flat screen TV and have access to food delivery apps. TV has never been so good!
Rick & Morty
My favourite animated series at the moment. Hurry up season 3! It has a continuing story arc as well as each individuals episode's story, which I love, as it really helps develop the characters beyond the usual 30 minute episodes. It's funny, gross, sad and super weird. Also a shoutout to Bojack Horseman which also rules!
Stranger Things
I was a child of the 80's so I grew up with everything this series references. It's amazing how well they replicated the feel of all those 80's movies, without the show feeling like a pastiche. And the original soundtrack, holy crap it's good.
Baskets
Written by Louis CK and starring Zach Galifianakis it's both incredibly funny and incredibly sad at the same time. If you're familiar with Louis CK's show 'Louie' then you will understand what I mean. Sometimes you're not sure how you're meant to feel.
Workaholics
Three single dudes who smoke to much weed, drink too much beer, have shit day jobs, but still somehow manage to have the most insane adventures. It's been around for awhile now (hurry up season 7) but is still 100% on it's game.
Fear The Walking Dead

I just finished season 2, I love how they have focused more on the relationships of people that would definitely be severely affected as they watch the world breakdown around them and the actions they have to take to survive. It's definitely starting to stand alone, as it's own show, rather than just an offshoot of The Walking Dead. Plus I saw a zombie get killed by someone pressing their thumbs into the brain though it's eyes. Brutal.
VERSUS: Issue 1 by Kane Hibberd in collaboration with Melbourne Bitter is available now. Info and stockists at versuszine.com.