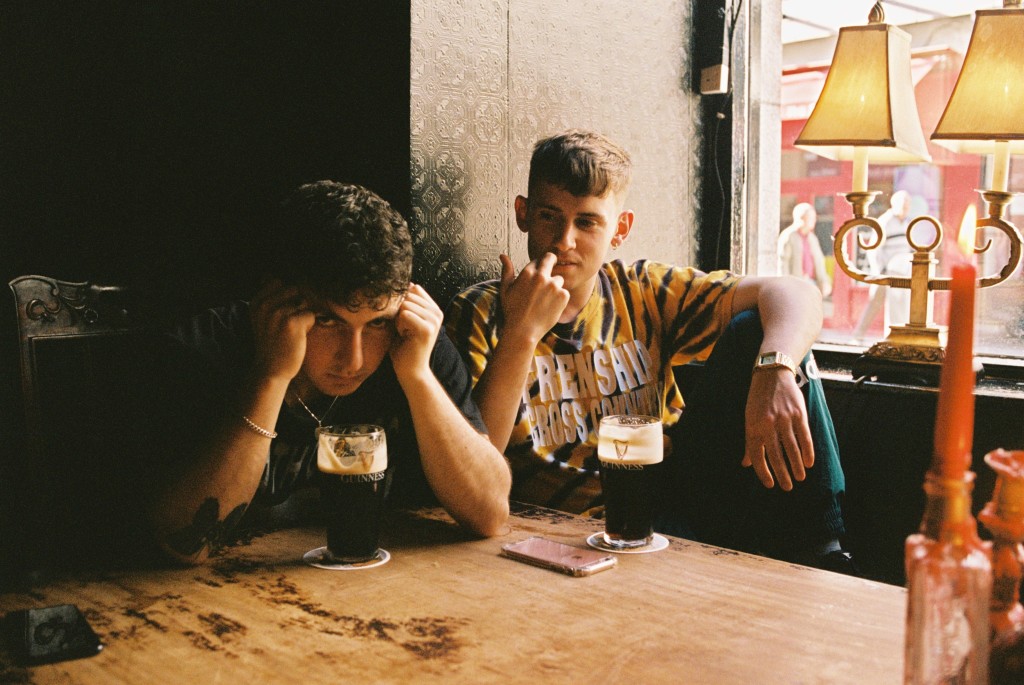 Netflix & Chill: Kojaque & Luka Palm
---
Dublin isn't exactly known to be a go-to hub for hip hop talent.
However, after hearing the fire emcee skills and rhymes from two of the countries rising music stars, Kojaque and Luka Palm, that reputation might be set to change. The pair recently released their killer collab mixtape, Green Diesel – featuring the outstanding single, 'Airbnb' and are set to play some pretty massive shows over the next few months, including supporting fellow UK hip hop star, Slowthai, as well as perform at Pitchfork Festival Paris.
Kojaque is the bigger star of the pair, and has made a huge impression in the last two years off the back of his phenomenal Deli Daydreams project – a conceptual mixtape based around a week in the life of a Deli worker. Think a millennial version of The Streets A Grand Don't Come For Free.
He went on to be nominated for the Choice Music Prize in Ireland (their version of the Mercury or AMP), played SXSW, Glastonbury, Longitude, The Great Escape, and supported Lana Del Rey in a 30,000-capacity castle.
Kojaque was also recently selected for Youtube's Foundry program, that mentors musicians making their own music videos, which he has proven to be quite adept at (watch the above 'Airbnb' clip or the classic for 'Flu Shot').
All the while, he's also promoted and expanded his Soft Boy Records independent imprint, helping to give a space and voice to his fellow Irish hip hop community, including his partner in crime Luka Palm, and now Green Diesel arrives as one of its biggest releases. Go check it out here.
We caught up with Kojaque and Luka Palm for our latest Netflix & Chill session, with some pretty epic pop culture recommendations below. Luke Palm has already convinced us to dust off our old PS2s just to get started. Enjoy.
KOJAQUE:
Blinboy Podcast
I listen to the Blinboy Podcast a good bit, I find it to be a good way to settle yourself if you're feeling a little weird. 
His Fave Films
There's tons of movies I could recommend, Paris, Texas, Ida, Enter The Void, Memories of a Murderer, Oldboy, Gummo. 
They're all freaky films, check um all out, I feel like they're such good films I don't have to say much about them.

LUKA PALM:
Bully (PS2 Game)
I used to play this everyday as a kid. I play it when I'm working in the studio and cant think of shit. It's my favourite game of all time. It's like a more chill version of Grand Theft Auto but I felt way more badass playing this game. I would leave the gaf wanting to do some stupid shit after playing it all day. Sometimes I walk out to the games soundtrack when I'm doing a show.
The Dark Knight (Movie)
I spent my childhood collecting Batman figures and comics. Batman is the fucking GOAT. I love all the Batman films but The Dark Knight is just insane. I can cry watching that. I get chills. The Joker is my favourite character in anything of all time. I used to want Joker to win in the comics when I was a kid because I don't like how the good guys always won. 
The Sopranos (TV show)
Kojaque got me into The Sopranos. We would watch it on breaks when we were working on stuff in the studio. I got obsessed and watched like five seasons of it in a month. It's unbelievable if you haven't watched it you need to. James Gandolfini is a legend I hope I look like him in 10 years. Sopranos just hits different and teaches you a lot I think.
D'angelo –  Brown Sugar (Album)
I've known who D'Angelo is forever but I never put time into actually listening to his music. Now he's my go-to artist whenever I'm listening to music. I bump this almost everyday. I don't know anything more chill than this. I'm upset that I didn't always listen to him. It's love music. It will make you miss an ex that you don't even have. I wish I could make music like this.