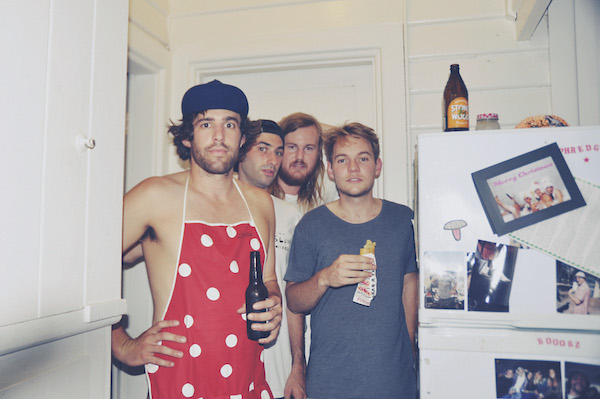 NETFLIX & CHILL: POP CULTURE PICKS WITH THE PRETTY LITTLES
---
The Pretty Littles spout a  brand of super melodic, self-effacing indie-rock. Like, really really really good indie rock, with just the right amount of lackadaisical cheek to have us grinning and nodding along. Unpretentious, sharply observant, light-hearted, larrikinish and charming as hell, it's a little bit slacker and a little bit slick. Makes us think they've got pretty good taste in pop culture things. And, you know, that's what we're into here at Blerg. 
Their new album 'Soft Rock For The Anxious' is out now via Caroline Australia. Vibe on current single 'Pride', which has been getting a smashing on triple j the past few months, suss out their album tour dates, and find out what they'll be watching/listening to in the tour van…
A FILM: BLAZING SADDLES
 It's a mystery how Mel Brooks got away with some of the shit in this movie. Hanging/punching/blowing up/tipping horses, that in-between offending every one and thing. Guess it was a different time back then. It's a western satire made in 1974, set in 1874. The gist is that a bunch of slaves are building a train line, but the rich white meatheads in charge have just found that there's a town in their way. As a roundabout way to get the townsfolk to leave, they make one of the slaves the sheriff there. I've watched this thing too many times throughout my life to gauge if it'd be funny to someone watching it now for the first time – I think it'd still stand up. There are a few dated gags in there, but even they've got their charm. Gene Wilder's in it too. Love me some Gene Wilder, yessir.

A TV SHOW: NO ACTIVITY
It's been a while since an Aussie comedy has really really nailed it for me like No Activity. It's based around three groups of characters – two bottom-of-the-ladder criminals waiting in a shipping container for a huge drug shipment, two detectives on a stakeout in their car at the same dock as the criminals, and two women in dispatch who every now and then touch base with the detectives for an update. The banter within each of the groups (and the entire show) is out of this world, the cast is perfect (Sam Simmons and Tim Minchin are in there, as well as some other faces you'll know), and with only one 6-episode season so far it's a pretty easy one to tackle. You'll need Stan though.
A RECORD: GRIZZLY BEAR – 'SHIELDS'
At least one of the other Littles members will disagree pretty strongly with this one but this is my list SO BACK OFF. I'd heard a couple of Grizzly Bear tracks over the years which I didn't mind, then on a whim my lady friend got me Shields on vinyl and mmmmm hototototototot. Those sounds. Everything's so well crafted. Favourites change pretty regularly but 'Sleeping Ute' is off its dick, 'Gun-Shy' mesmerising, and 'Sun In Your Eyes' one of the best album closers I've ever heard. Also 'Will Calls (Marfa Demo)', which they dished up later as a B-side, gets an honourable mention.
A PODCAST: SONG EXPLODER
Little 15 minute-ers where big time musicians/bands dive into how one of their songs came together. I've only listened to a few so far they've all been winners. Turns out 'Time to Pretend' was sped up to the same speed as 'Dancing Queen', 'Wolf Like Me' was recorded partly at a crack house, and a nurse gave creative input into The National's 'Sea of Love'. One of them didn't actually happen but you'll have to listen to find out which.
THE PRETTY LITTLES – 'Soft Rock For The Anxious' Tour
Saturday 22nd October – Kennedys Creek Music Festival, VIC
Friday 28th October – Karova Lounge, Ballarat, VIC
Saturday 29th October – Northcote Social Club, Melbourne, VIC
Thursday 3rd November – Rad Bar, Wollongong, NSW
Friday 4th November – Moonshine, Manly, NSW
Saturday 5th November – Brighton Up Bar, Sydney, NSW
Friday 11th November – Cats @ Rocket Bar, Adelaide, SA
Saturday 12th November – The Loft, Warrnambool, VIC
Friday 18th November – The Northern, Byron Bay, NSW
Saturday 19th November – The Bearded Lady, Brisbane, QLD