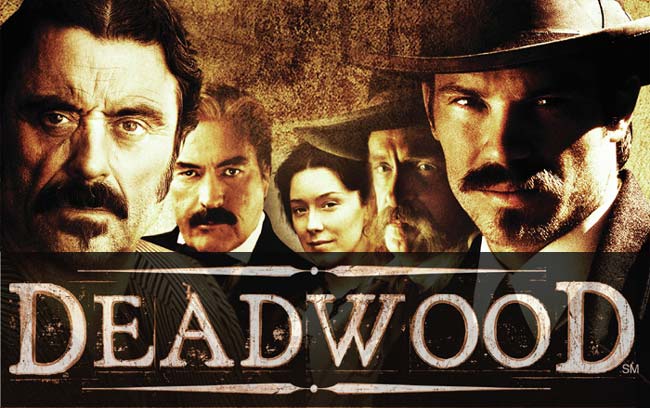 Now wait just a second here, 'Deadwood' might be making a comeback
---
Well look what the cat dragged in!
Here we are thinking that the lilly livered HBO execs had gone and permanently cancelled one of the greatest TV shows in history, not a trace of it to be seen ever again, back in 2006.
Turns out the cocksuckers were just waiting for the right opportunity to breathe some life back into the ol' gal.
Okay, that's enough Al Swearengen talk.
If versatile character actor Garret Dillahunt is to be believed, a Deadwood movie could be on its way.
Dillahunt, who played two, seperate characters on the show during its three season run, kicked off all the speculation when he tweeted the other day:
So uh….I'm hearing credible rumors about a #Deadwood movie. #Everybodypray

— Garret Dillahunt (@garretdillahunt) August 13, 2015
His 140 character musings were then given an anvil of weight, when Variety reported that an HBO spokesman had confirmed to them that "very preliminary discussions" had taken place about breathing new life into the Shakespearian, Wild West saga.
Love for Deadwood has never dissipated since the show's untimely end, with star Timothy Olyphant's follow up vehicle Justified becoming just as beloved as a kind of modern day version of the original, and seeing cameos from several of his Deadwood counterparts.
Meanwhile, the legendary Ian McShane, who played Olyphant's character Sheriff Seth Bullock's nemesis Al Swearengen in the series, is set to add a whole lot of piss and vinegar to Game Of Thrones, when he debuts in the hit show's next season.
Come on HBO, if you think Entourage is worthy of a movie, then you've got to have space for a credible project too.