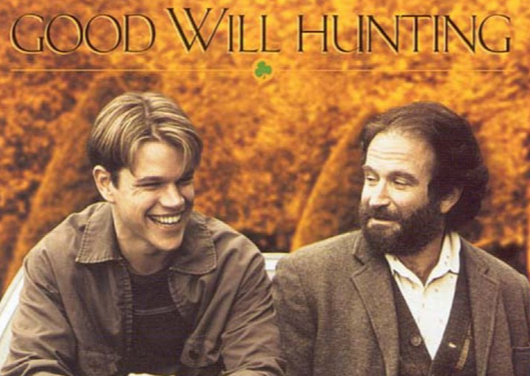 One of the best soundtracks ever is getting a vinyl release
---
When Robin Williams died last year, I, like many, was devastated.
He'd been a huge and significant figure in my childhood; a comedic performer the likes of whom will probably never be seen again; and one of the few actors that could crush you as much with a comedic performance as he could with a dramatic role in a film.
In fact, I hadn't felt as heartbroken by a celebrity's death like that, since the death of Elliott Smith, eleven years earlier in 2003.
Keen observers would already have pieced together that the two were intrinsically linked through their involvement in the brilliant 1997 film Good Will Hunting.
As powerful and as brilliant as Williams' performance as Sean Maguire was in that film, it could be argued that the movie's Smith-heavy soundtrack was equally as moving and significant, as it added weight and depth to so many key scenes ('No Name # 3′ during the famous "How do you like them apples?" scene, for eg).
So it seems poignant, almost 20 years afters its release, and after the passing of two of the most important players in the success of the film, that the Good Will Hunting soundtrack is set to be reissued on vinyl.
As well as Smith's contribution (including the soundtrack exclusive orchestral version of 'Between The Bars' and the Oscar nominated 'Miss Misery'), the record also features other classics, including the Dandy Warhols' 'Boys Better,' The Waterboys' 'Fishermans' Blues' and Gerry Rafferty's sax anthem 'Baker Street.'
Here is the full track-listing:
1. Elliott Smith – Between the Bars (Orchestral)
2. Jeb Loy Nicholas – As the Rain
3. Elliott Smith – Angeles
4. Elliott Smith – No Name #3
5. The Waterboys – Fisherman's Blues
6. Luscious Jackson – Why Do I Lie?
7. Danny Elfman – Will Hunting (Main Theme)
8. Elliott Smith – Between the Bars
9. Elliott Smith – Say Yes
10. Gerry Rafferty – Baker Street
11. Andru Donalds- Somebody's Baby
12. The Dandy Warhols – Boys Better
13. Al Green – How Can You Mend a Broken Heart?
14. Elliott Smith – Miss Misery
15. Danny Elfman – Weepy Donuts
The reissue is set for release through Capitol on February 3, according to Exclaim.
I, for one, can't wait to hear 'Miss Misery' scratched from vinyl and poured through speakers.