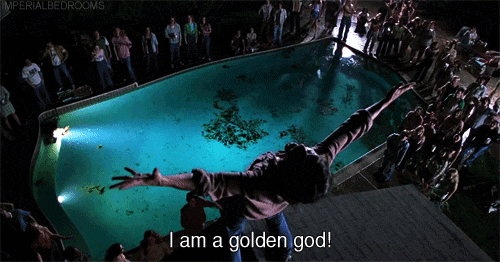 Revelations From The Road: The Hotelier On Long Held Misconceptions About Touring.
---
I always wanted to be a musician in a touring band. Many people still do. They are crazy people.
As they commence their first ever tour of the country this week, The Hotelier's delightful vocalist Christian Holden guides us through some of the biggest misconceptions about livin' the crazy tour life. Prepare for thy bubble to be burst.  Also, get along to one of these shows with Ceres. They are going to be batshit good.
1. MOST BANDS PROBABLY DON'T GET ALONG ALL THE TIME: "Most bands have very complicated dynamics and don't get along but only because they're together so much in close quarters. At the end of the day I get along with everybody in the band. But we fight so much over the stupidest shit."
2. NO ONE'S DOING BLOW IN THE TOILETS: "I don't know if this is a misconception or if this is just from the hair metal era, but I feel like there's way less drugs than there's made out to be. I don't often hear of anybody building relationships or spending any time with people in that sort of social regard. I don't think that there's any real drug use besides like weed and drinking, which will lead me to number three…"
3. EVERYONE'S ENJOYING A SHANDY: "Most bands just drink like dads. No-one really drinks too, too much. We've definitely been with bands that do, but for the most part most drink like dads."
4.THE BAND KINDA MISS THEIR MATES: "While it seems like most bands get along in a friendly way and that all of us have lots and lots and lots of friends, for the most part we have lots and lots and lots of friends that we see for maybe one day or two days out of the year. It's very difficult to sustain relationships or friendships. Most of my friendships are like, "Hey, we need to talk every week and we need to set that as a goal so that we don't lose touch or else we're going to because I tour so much.""
5. NOT EVERYONE IS AS ENIGMATIC AS DAVE GROHL: "I don't know if this is a misconception or not – musicians are absolutely some of the weirdest people I've ever met in my life. Basically choosing to tour this much and become your art as an identity is one of the dumbest things you can do, and thus it takes a very, very strange person in order to do that and feel okay doing that."
The Hotelier tour nationally with Ceres this month. Check out one of the dates below! 
Tue Dec 1 – Music Man, Bendigo (18+)* – NEW SHOW
With The Bennies, Hard Aches, Camp Cope
Wed Dec 2 – Club 54, Launceston (18+)
With The Saxons, Sumner
Thu Dec 3 – Enigma Bar, Adelaide (18+)
With Sincerely, Grizzly, Stabbitha & The Knifey Wifeys
Fri Dec 4 – Reverence Hotel, Melbourne (18+) – SOLD OUT
With Foxtrot, Camp Cope
Sat Dec 5 – Wrangler Studios, Melbourne (AA)
With Fear Like Us, Camp Cope
Tue Dec 8 – Yours & Owls, Wollongong (18+)
With Carb on Carb, Jacob
Wed Dec 9 – Black Wire Records, Sydney (AA)
With Sweater Season, Carb on Carb
Thu Dec 10 – Factory Floor, Sydney (18+)
With Mere Women, Hannahband
Fri Dec 11 – Hamilton Station Hotel, Newcastle (18+)
With Safe Hands, Jen Buxton & The Slaughterhouse Five
Sat Dec 12 – Crowbar, Brisbane (18+)
With The Gifthorse, We Set Sail
Sun Dec 13 – 38 Berwick, Brisbane (U18)
With Guava Lava, Bixby Canyon