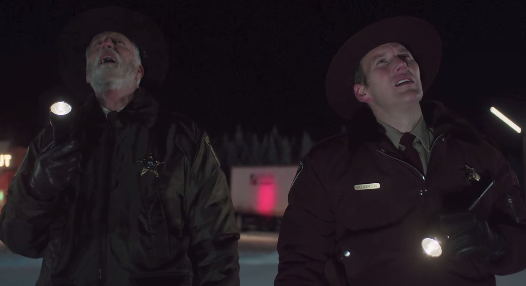 So The Trailer For 'Fargo' Season 2 Rules
---
There are two kinds of people in the world: people that thought True Detective was the best show of 2014, and people who thought Fargo was the best show of 2014.
In hindsight, despite being totally mesmerised by the brilliance of True Detective season one and peak McConaughey, the show's finale left me feeling a little bit… meh.
Whereas Fargo – although it started off slow (and it took a while to get used to Martin Freeman with that accent) it finished much stronger than its crime thriller counterpart.
Also – Billy Bob.
So it's stupendously exciting to see the trailer for Fargo season 2 looks as brilliant as the first series, especially as we sit in the midst of True Detective season 2 being written off as one of the biggest let downs of 2015.
The all-star cast for starters is simply ridiculous, and includes Patrick Wilson, Ted Danson, Kirsten Dunst, Adam Arkin, Brad Garrett, Jean Smart, Jeffrey Donovan, Kieran Culkin, Nick Offerman and Australia's own Angus Sampson.
The series is set to time jump back to 1979, and centre around the often mentioned "Sioux Falls incident" from season one, and if the trailer is anything to go, is going to be another hilarious dark comedy, in the style of the classic, 1996 Coen brothers neo-noir film.
It's release date is set for October on FX.