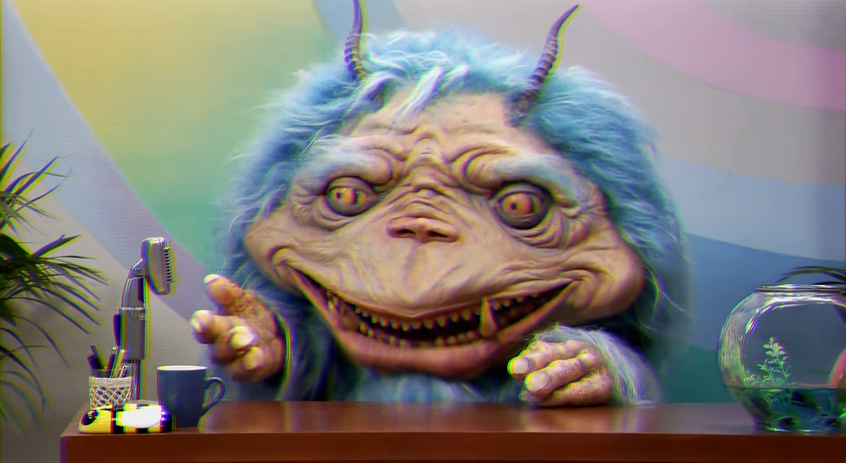 The Gorburger Show is hilarious, absurd and headed to HBO
---
If you haven't already witnessed the insane hilarity that is The Gorburger Show, here's the premise: a giant blue space alien (the titular Gorburger) attacks a Japanese morning television talk show, kills and eats half its cast and then holds the remaining crew hostage and forces them to continue to help him host the show.

You should already have a full-blown comedy erection by now, but for the few that don't, here's a couple of LOL Viagra to get you at full attention – Gorburger is voiced by the deafeningly loud / incredibly funny T.J. Miller (Silicon Valley, the Transformers series, a million podcasts),  and features interviews with very real musician guests, including Tegan & Sara, The Mars Volta's Cedric Bixler-Zavala, Flea, Dum Dum Girls, Jack Black, Andrew W.K., Henry Rollins and more.
The interviews are invariably ridiculous, with Gorburger asking obtuse questions based off his very limited research / understanding of humanity, while he constantly threatens to eat and kill the crew (and occasionally the guest), all in a pursuit to satisfy his blood-lust. It's kind of like Between Two Ferns, if Zach Galifianakis was a terrifying space alien with a hunger for human flesh.
The show also features live music performances and special quiz segments, including the "Laser Round" and "Tokyo Fever" that usually involve a question related to whether or not Usher is the best dancer in the world. Spoiler alert: Gorburger thinks he is.
The Funny Or Die series premiered online a couple of years ago and ran for two seasons, but after an extended hiatus has now been picked up by HBO for a pilot, more than likely the result of Miller's increased fame and popularity.
The new edition of the show is set to expand its guest roster to include non-musical celebrities, including Ed Helms and Johnny Knoxville, and will feature more live performances, as well as music collaborations with Danny Brown and HEALTH.
Watch the first episode of The Gorburger Show below (featuring Tegan & Sara) and then head over to Youtube to watch the rest of the series.