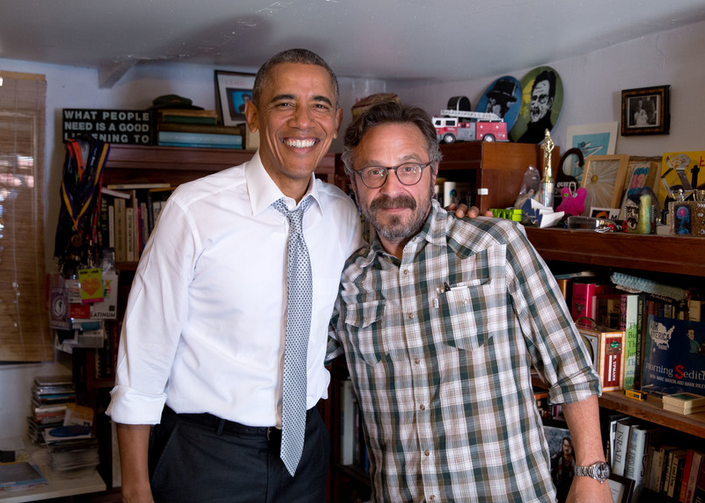 What we heard in Obama's episode of WTF
---
So it happened.
Arguably the biggest moment in podcast history has taken place, with the current President Of The United States Of America, Barack Obama, appearing on Marc Maron's WTF podcast.
What the actual fuck.
Obama's appearance was brief, but thick with discussion, as the POTUS took the reigns for much of the hour or so he and Maron chatted, as he delved into a number of topics, including:
– Obama's formative years, including time spent in LA, Hawaii and Indonesia
– His recent responsibilities dealing with the shooting tragedy in South Carolina and the US's ongoing and shocking rate of mass murders
– The ongoing race debate in America
– Obama's family life, including being raised by his mother and grand parents, as well as the absence of his father in his life
–  how he thinks he has changed as a man over time
– his achievements in office
– his struggles with the well documented incompetent Congress
– dealing with his own family life while in office
There's plenty more in there as well, but it's much better listening than bullet pointing, so I'll let you go and experience it for yourself.
You can listen to it now over at the WTF website or on itunes.
There's also a special website that's been set up by sponsor Squarespace that shows a bunch of intimate pictures of the POTUS in the garage, called marcmeetsobama.com – check it out.
And although it obviously hasn't gone to air yet, I can't wait to hear what Marc has to say on Thursday's podcast entitled 'The President Was Here.' Probably a good move not having a guest – that would have been a tough act to follow.
Picture: Pete Souza