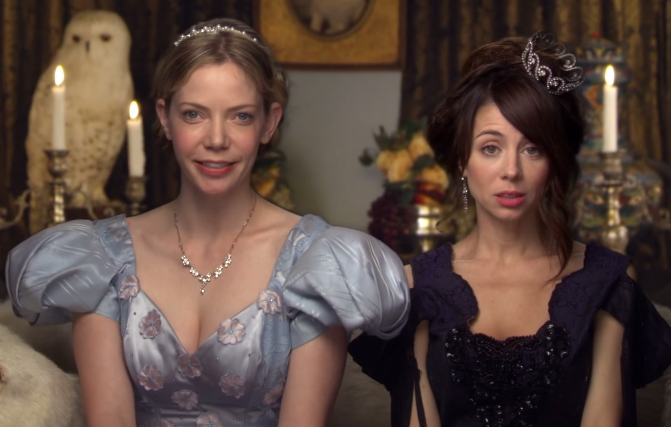 'Another Period' is the hilarious bastard child of Real Housewives and Downton Abbey
---
Just when you thought tuberculosis gags were going out of fashion… 
No seriously, I've been coughing up blood watching Comedy Central's latest offering, Another Period, such is its insane laugh quotient.
The brainchild of comedians Natasha Leggero and Riki Lindhome, this period piece / reality TV show parody, is one of the best new comedies to hit the screen since Brooklyn 99.
Leggero and Lindhome play the Bellacourt sisters – airs to the largest fortune in all of Newport, Rhode Island in 1902. The show follows the duo and their repulsive family through a series of wacky adventures, with their depressingly poor and mistreated servants dragged along for the grotesque ride.
The are thick and fast – like the rapid spread of smallpox – lampooning class, poverty, incest, war, disease, awful clothing, Hellen Keller, the women's suffrage movement, and pretty much anything that was anything at the start of last century.
And let's not forget the huge, huge pubic hair.
Joining Leggero and Lindhome is a cavalcade of alt comedy and Hollywood stars, including David Wain, Michael Ian Black, Christina Hendricks, Thomas Lennon, Paget Brewster, Brett Gelman and David Koechner, to name a few.
Plus, a theme song cut by none other than Snoop Dog elevates the absurdity to a whole new level.
It's a hilarious satire more than worth your time.
You can watch Another Period now if you have a VPN over at Comedy Central's website, otherwise it will hopefully get a release on the Comedy Channel in Australia sometime soon – with multiple clips also going up on Youtube.