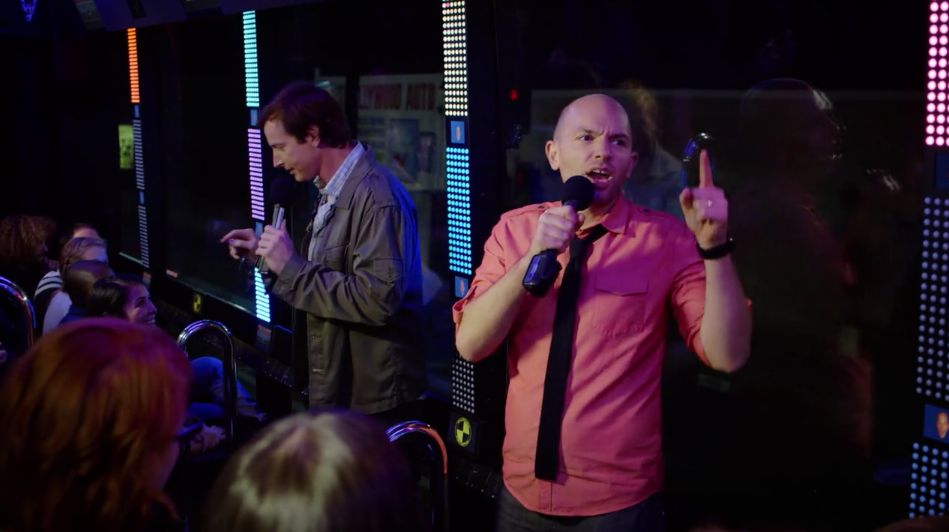 'Crash Test' Might Be The Most Completely Nuts Comedy Special Ever Released
---
If there are two comedians that definitely deserve to be more famous, it's Paul Scheer and Rob Huebel.
The two actors have become staple characters in multiple alt comedy series and films in recent years, including cult hits like The League, Childrens' Hospital and NTSF:SD:SUV, as well as teaming up for some scene stealing appearances as the cops in the criminally underrated horror spoof Hell Baby.
They're also both podcast regulars, with Scheer heading up the Earwolf sister network Earpop, which has produced some of the most eclectic additions to the medium since it started up late last year.
But now the two are combining to present a totally unique comedy special – one they're claiming is the first to ever occur on a moving bus. And, well, no-one is really questioning that.
Crash Test is set to be released August 18, and will see Huebel and Scheer embark on the novel endeavour of taking a traditional variety show, and literally hitting the road. In the special the duo commandeer an audience of live comedy show guests and take them on a joyride on a specially designed bus around the sights of Los Angeles, for pretty much amounts to be a deranged kind of star tour.
Like the heading says, completely fucking nuts.
Along the way, the rolling show is also set to end up at a variety of famous comedian's houses and favourite hang outs, where each will perform live stand up sets, comedy sketches, and at one stage even pull the bus over for a light frisking ( thanks to a cameo from the cops from Reno 911).
The list of guest comedians reads like a who's who of the alt scene, including Aziz Ansari, Rob Corddry, Andy Daly, Ben Garant, Ian Karmel, Natasha Leggero, Tom Lennon, Jack McBrayer, Seth Morris, and Aubrey Plaza.
Plus, on top of all that, the audience is set to be treated to a performance by rapper Earl Sweatshirt.
The special's format actually makes a lot of sense for the duo, who both have an extensive history in improv and sketch, rather than traditional stand-up, and, well, as long as they don't get motion sickness, taking an improv show out of the confines of a theatre is kind of genius.
And if it weren't innovative enough, the special is also set to be one of the first pay-per-view presentations on the high quality video streaming service Vimeo.
Watch the trailer for Crash Test below, ahead of its premiere on August 18. You can also pre-order it now from its Vimeo page here.