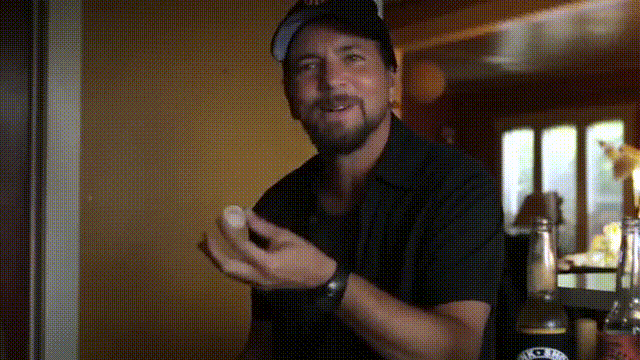 Eddie Vedder shows us what it's like to tour with Cosmic Psychos. By putting a coin up his butt.
---
Yo Dune Rats, you might want to be across this one.
This fantastic clip from the Cosmic Psychos documentary Blokes You Can Trust shows just how brutal life on the road with notoriously mischevous rocknroll rulers the Cosmic Psychos can be. They've bullied some of the biggest names in rock into drinking relentlessly, and you can see the pain in their road-weary eyes as they reminisce about the antics of Ross Knight. Even Knight himself can't believe some of the shit he did, "it was like having a Friday evening after work…every day".
It's not just the Dune Rats' livers that are bound to get a solid pummeling this winter, those dudes need to work on their glutes if Eddie Vedder's story is any indication. Ever played a drinking game that involves putting Australian currency up your bum? Clench dem cheeks, boys…
(Warning, butts and peens ahead)
"It was always like eight grade, stupid shit" Kevin Rutmanis of Melvins tutts. Sounds like Dune Rats and Psychos might get along just fine.
The Cosmic Psychos will tour with Dune Rats this June right after they release their new album Cum The Raw Prawn on June 5. Check out their tour dates below. 
FRIDAY 5TH JUNE- COOLANGATTA HOTEL, QLD
www.thecoolyhotel.com.au
Tickets $25 +bf from venue & www.oztix.com.au
SATURDAY 6th JUNE- CROWBAR, QLD (Psychos Only)
http://crowbarbrisbane.bigcartel.com
FRIDAY 12TH JUNE-CHELSEA HEIGHTS HOTEL, VIC
www.chelseaheightshotel.com.au
Tickets $25 + bf from www.moshtix.com.au
SATURDAY 13TH JUNE-MAX WATTS ,  VIC
www.maxwatts.com.au
Tickets $25 +bf from www.maxwatts.com.au or 1300 724 867
THURSDAY 18TH JUNE- THE CAMBRIDGE HOTEL, NSW
www.yourcambridge.com
Tickets $25 +bf from www.bigtix.com.au
FRIDAY 19TH JUNE- MANNING BAR,NSW
www.manningbar.com
Tickets $25 +bf from www.oztix.com.au
SATURDAY 20TH JUNE- MONA VALE HOTEL, NSW
www.monavalehotel.com.au
Tickets $25 +bf from www.oztix.com.au
THURSDAY 25TH JUNE- THE GOV, SA
www.thegov.com.au
Tickets $25 +bf from www.oztix.com.au
FRIDAY 26TH JUNE – SETTLERS TAVERN,WA
www.settlerstavern.com
Tickets $25 +bf from www.oztix.com.au
SATURDAY 27TH JUNE-ROSEMOUNT HOTEL, WA
www.rosemounthotel.com.au
Tickets $25 +bf from www.oztix.com.au