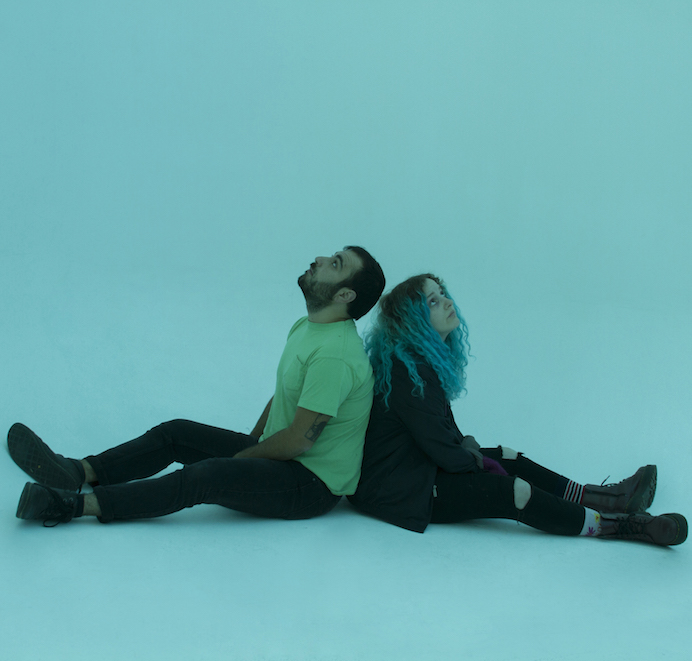 Netflix & Chill: Sad Baxter
---
There's a shit tonne to like about Sad Baxter.
Whether it's Deezy Violet's gravelly vocals and buzzing guitar lines, or Alex Mojaverian's chaotic drumming and invigorating backing harmonies, the grungey Nashville duo have a super fun sound that recalls a lot of you favourite bands – from Nirvana and Hole, through to Weezer and Best Coast.
More than anything else, though, you can tell from their music and their videos that they're just super chill people that would more would be up for a chat in a parking lot post show. They have a rocking, punk sound, but there's a real warmth to their characters and personalities and that shines through in songs like 'Baby' and 'Love Yew.'
So, like what friends often do, we asked them to recommend us and you some of their fave pop culture, so the next time they're playing a show in your town, you'll have the perfect opener to start off your lifelong friendship.
Podcasts
Deezy: I feel like I have a pretty short attention span with podcasts. I like two different ones done by the New York Times — The Daily and Popcast. The Daily is about 20-30 minutes of a relevant news story, and Popcast is hosted by music critics as they talk about new pop albums, prominent pop music figures (new and old!), etc. I also really like true crime podcasts, but don't have a particular favourite.
Alex:  My favorite podcast ever is called The Best Show. It's a live, call-in online radio show that gets released as a podcast after each week's episode. Tom Scharpling, the show's host, is the closest thing I have to a hero in my life. The show has topics each week that may or may not be followed throughout the episode by Tom, the guests he has on, or the callers, but it's usually centered around music, movies, and pop culture. There's actually quite a few people who call in to the show from Australia. There might be a little bit of a learning curve to "get" what the show is about, but I feel like Tom is one of my best friends after listening to him for years now. HE GETS ME AND HE MAKES ME FEEL LESS ALONE!
Television
Deezy: Sometimes I think if all television except The Office disappeared, I wouldn't even notice. I love both the original UK version and the US version — but I have watched the US version probably… I dunno… 20 times? I'm not exaggerating and I'm scared because it's probably more than that, honestly. I've gotten really into watching The Bachelor/Bachelorette franchise recently too, because it is just so ridiculous.
Alex: The last show I got really into was The Expanse. It's a really well done sci-fi space drama. It scratches that Battlestar Galactica itch pretty hard and, for a serious sci-fi show, the acting is actually pretty good!
Music
Deezy: My favorite band is Nada Surf,and I feel happily content when any of their albums are playing. Most recent favorite albums would be Nothing Valley by Melkbelly or The Incessant by Meat Wave. Smart, kinda eerie, melodic punk music.
Alex: I got pretty hard into Frankie Cosmos's new record Vessel a few months ago. Also digging the new Rolling Blackouts Coastal Fever record a lot since it came out. I got to see them in a tiny room to about 30 people in Nashville on their US tour in May and I felt really lucky because I knew basically everywhere else in the US they were playing much bigger rooms with way more people there. Nashville is usually late to the party on upcoming acts and I wish more people knew about them here!
Books
Deezy: I'm a lover of non-fiction books, particularly when they are about music or feminist/queer culture. My favorite books I've read recently are Not That Bad: Dispatches from Rape Culture by Roxane Gay, and The Argonauts by Maggie Nelson. The two books I brought on tour with me are called 90s Bitch and Queer, There, and Everywhere. I don't stray much from my interests, I guess, haha!
Alex: I wish I read more, but I don't. I like basically anything by Phillip K. Dick 'cause I'm a light sci-fi nerd. The last book I started reading is War on Peace: The End of Diplomacy and the Decline of American Influence by Ronan Farrow and it's really interesting so far. It was a gift from my girlfriend, thanks Jenni!!
Movies
Deezy: I'm actually not a big fan of movies! I'm not a fun person. My favorite of all-time would probably be The Shining, if I had to choose. I saw Hereditary recently, and that creeped me out pretty thoroughly. I do like documentaries and watched one called Tickled that was really good.
Alex: The most recent movie that I've seen that has stuck with me is called Good Time. I honestly don't know if I loved or hated watching it. It's a crime drama-thriller that will very much make you hate your life. I also watched that documentary Icarus about Russian doping in the olympics and it's insane.
Comedy
Deezy: I watched Michele Buteau do a set as part of this Netflix series The Comedy Lineup and she made me laugh out loud. I also love Hannibal Buress!
Alex: My girlfriend recently showed me some stuff from Julio Torres recently and I thought it was pretty funny.
Sad Baxter's latest EP So Happy is out now!
Words: Nathan