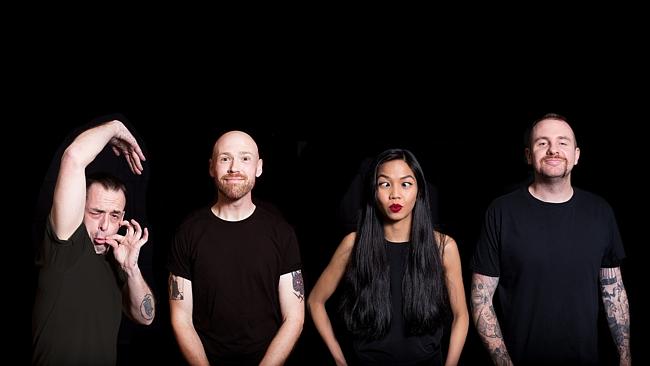 8 Reasons Why High Tension's 'Bully' Video Matters So Much
---
SHOW YOU HOW IT'S DONE. The Melbourne band's new video feels like a meaningful moment in Australian music. 
We have a lot of favourite moments in High Tension's new video for 'Bully'. The title track from their second album is a slow chug, dominated by Karina Utomo's classic, guttral growl. There is fighting and some sweet back patches (where do we get some?). It is very, very good. But there's a lot more to like than that…
1. We're used to seeing chicks fighting for the guys, or the 'male gaze' if you will. They're always clawing and scratching instead of absolutely laying the boot into some unsuspecting ribs. This time they're fighting for the CHIX. It's a nice touch. We don't get to see a lot of heavy videos entirely populated by women, and when they are they're usually gyrating a lot. (Lookin at you Mastadon; Motherload is an epic track but that video was some bullshit.)
2. It features Poison City Records' Sarah Thompson.
3.  The fighting is real. Enlisting gnarly female fighters to let rip ensures you get some legitimate throwdowns and some flexes than even the Raised Fist commander would be proud of.
4. It features  Fear Like Us' Lauren Hammel.
5. It showcases Utomo's range. From that disaffected drawl to the otherworldly screech that would ordinarily signal that a Mogwai's been fed after midnight, one of the greatest assets High Tension has is it's vocalist's impressive range. Her diverse musical background which included many years fronting pop ensemble Young & Restless, ensures these guys will continue to evade pigeonholing for many albums to come.
6. It features Jelena Goluza of unstoppable local hardcore presence, Outright.
7. Believe it or not, the hug at the end is everything. For all the menace and tough stickers on display, for all the spit and sweat that ensues, the greatest part by far is the embrace at the end. Therein lies the perfect symbolism for strong women; the ability to be powerful, vengeful shebeasts while being affectionate, respectful and nurturing at the same time. You know Bey got it right when she boasted: "Strong enough to make these millions, raise these children, then get back to business."
8. Female empowerment anthems, discussing complexes unique to women (eg. being concerned you're not going to be taken seriously in an industry and genre almost entirely dominated by males) usually come in the form of the aforementioned pop music. It's not often you hear a song about "conquering that fear, conquering 'bullies', including our own personal bully."  that is accompanied by riffs like this.
Bully is officially our favourite High Tension video, with the the unforgettable Collingwood masterpiece coming in a close second.
Bully is released this Friday July 10 via Double Cross Records. High Tension headline album launches down the East Coast this month, starting at Melbourne's Howler on Saturday July 11.