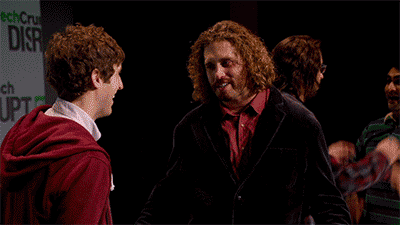 Silicon Valley takes its own advice and brings LOLs in morbid season opener
---
*Spoiler alert* 
Silicon Valley's Season two opener had a massive task on it's hands. Their entire first season plot revolved around the team's evolving relationship with awkward yet somehow enigmatic billionaire Peter Gregory but tragically, before the first season concluded, the actor the played Gregory (the immensely talented Christopher Evan Welch) passed away.
Alec Berg Executive Producer explained to Vulture last week that the series had to take it's own advice, and 'pivot' to adjust to the challenge that was thrown at them:
"To use a tech term, we had to pivot the entire story of the show. Everything that happens from this point forward in the show story-wise is not probably what we would have done if we still had Chris around. There was no plan ever to write away from him, 'cause he was so brilliant and great. So we had to figure out "Where to from here?" And that's a huge amount of the launch of season two: "We don't have Chris anymore, so what are we gonna do?""
Not only did the writing team – lead by the masterful Mike Judge- manage to pivot, they managed to do it in style and bring the laughs that we've been longing for since Season One's tasty conclusion. There is no doubt in our minds that this new HBO series is one of the most savvy new television enterprises of the last five years. The way Judge and co have tactfully and thoughtfully navigated the fascinating world of tech start-ups and the outrageous personalities that power them is been nothing short of masterful.
The only way to legally view Silicon Valley in Australia is via The Comedy Channel on Foxtel, which airs episodes every Wednesday, days after the US broadcast. Those Australians trying to access HBO content via geo-blocking circumvention tools are going to be identified and booted this week.