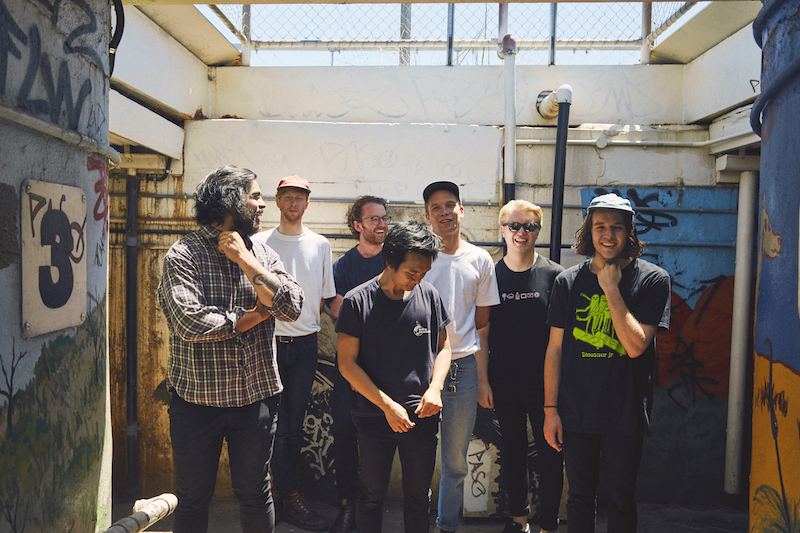 West Thebarton Brothel Party's Tour Playlist RULES. Lots.
---
West Thebarton Brothel Party are the beeeeeeeeest most raucously fun rock'n'roll band goin' around our fine nation at present. Heck, we even think the whole world. Need convincing? Wrap your ears around their fuzzy, irresistible ode to sharehouse living, 'Moving Out'. Right. Dang. Now. As you'd expect from a troupe of seven handsome young ruffians, they also have kick-ass taste in music. We made them round up the very best of their tour tunes, fresh off their SOLD OUT hometown Adelaide single launch over the weekend. Get around it below. We're tipping exciting times ahead for these lads as they prepare to unveil their debut album sometime in the not too distant future. You heard it here first… 
Tri Tra Trulala (Herbegsvater) by Joachim Witt – I've started putting this song on whenever I start my car for a tour. We first came across it at Golden Plains Festival, pumping out of the DJ speakers to a crowd of groovers. It's got the best feel. The bass and drums lock in and just get you excited to ship out. And no, I am sure he is not actually saying "let's get fucked up" in the chorus.
Different Now by Chastity Belt – this was a new tune to this tour. Brian our percussionist/guitarist/everythingman popped this on while we were getting petrol to head out to our show at the Hills Are Alive. The lyrics just pummel your heart from the get go. "You should take some time to figure out your life". Man, what a thought to be running through your head for 10 hours of driving. Such a delicately arranged tune, and the guitar tones are so satisfying.
Flood Plains by Boomgates – this song comes from an album by Boomgates that is one of our traditional touring albums. I feel like it's always at the same point in the drive from Adelaide to Melbourne that this song comes on, and smiles light up all our faces in our cramped little car.
Dojo Rising by Cloud Control – we were lucky enough to play just before Cloud Control at Hills Are Alive a couple of weekends ago, a band that I have loved since I was 17. They were the first band I actively drove to Melbourne to go see, and seeing them come back after a little while of not playing shows was incredible. Us in the band have pretty differing tastes in music, but this song had us all bellowing our hearts out on the Hill.
Hurt Me by The Jezabels – I find myself listening to this song when I need to pull back from the immediacy of touring, and at nearly six minutes, this song gives such a welcome spell. It's got this feeling of space that just gives me such clarity. The way this song is executed is unlike anything I've heard before or since. An amazing song that I've never gotten sick of.
My Happiness by Powderfinger – there comes a time in any long drive where you just need an Aussie Rock Half Hour of Power. You can totally overdo Oz Rock – but a half hour is such a nice guilty pleasure. This song is one of the most perfectly structured, metered and sensitive songs and it usually comes as a sort of soothing tea after we have pumped the vanguard of legendary Australian bands like Midnight Oil, Sunnyboys, Angels, Cold Chisel, Radio Birdman – whatever we can fit in half an hour. My Happiness never fails to lift the spirits.