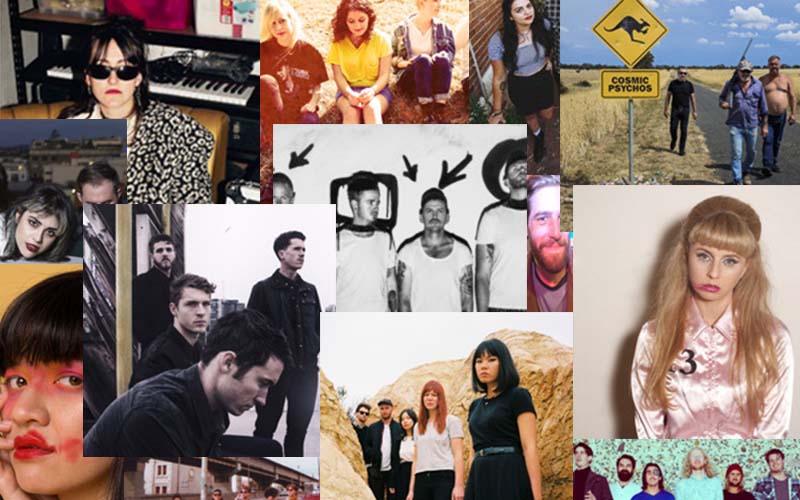 15 Must See Acts At Bigsound 2015
---
Australia's biggest showcase to the globe of our local talent is all set to kick this week with Brisbane's Bigsound 2015.
From across the country some of our best up-and-coming acts will be delivering the goods to a smorgasbord of industry and media all looking to secure the "next big thing." And they're going to have their work cut out for them because this year's Bigsound line-up is one of the strongest to date.
The Blerg crew is going to be running around this year's festival trying to catch as much of the talent as we can lay our eyes and ears on, so if you wanna catch up with us for a froff, or just see some fucking great live music, here are some of our top picks for this year's festival.
See you in Brisvegas!
Angie
Angie is pretty much a cosmos around which the Australian underground music scene orbits (does that make sense? I don't science). Whether she's tearing it up in Straight Arrows, Southern Comfort, Circle Pit or a million others, she's pretty much playing on a stage or in a studio at anyone minute that exists. She's also been crafting a stellar solo career over the last couple of years and recently released her sophomore album Free Agent via Rice Is Nice records.

See her:
The Alehouse @ Woolly Mammoth
Thursday, 10th September
9:40 PM – 10:10 PM
Born Lion
Sydney rockers Born Lion are one of those bands you can expect to get covered in beer to. They play that explosive, throw yourself against a wall breed of rock that has been largely bled out of the mainstream in the last decade, so it's great to hear a bunch of blokes with their distortion pedals kicked on and their vocal chords shredded making a bit of a dent in the industry again.
See them:
The New Globe Theatre
Wednesday, 9th September
10:30 PM – 11:00 PM
City Calm Down
Thanks to their association with taste making label I OH YOU, Melbourne brood rockers City Calm Down will definitely be one of the most hyped acts on the line-up of this year's conference / festival. Their new wave / Joy Division influences are palpable on record – whether they can recreate that intensity on stage will be interesting to see.
See them:
The Winn (outdoor stage)
Wednesday, 9th September
11:20 PM – 11:50 PM
Cosmic Psychos
There's a lot of new talent on the table for this year's conference, but it's always hard to miss a bunch of legends like the Psychos. At the peak of their career resurgence from the last few years, one could argue you'll be seeing the Blokes You Can Trust at the top of their game. Or they'll just get shitfaced and cause a riot. Either way it will be fucking tremendous.
See them:
The New Globe Theatre
Wednesday, 9th September
11:20 PM – 11:50 PM
Darts
Melbourne five piece Darts released one of the best local albums of the year in Below Empty And Westward Bound, stringing together a patchwork of Pixies and Sonic Youth influences to weave a modern day masterpiece of grunge, pop, and spaghetti western soundtrack. Sharing a male and female frontperson means that their dynamic changes and evolves from song to song, but the result is always the same – stellar rock and roll.
See them:
The Alehouse @ Woolly Mammoth
Thursday, 10th September
8:00 PM – 8:30 PM
Le Pie
Emerging from nowhere earlier this year, Sydney's Le Pie crafts a dirty, grunge style of indie pop, influenced by her punk rock background. One moment she's singing to you sweetly, the next she's got her nails dug into your spine. Having just released her debut EP and he said honey, you look so fine, catapulted by the big single 'Secrets,' this gig will be for those that like their music pretty and dangerous.
See her:
Press Club
Wednesday, 9th September
11:20 PM – 11:50 PM
Major Leagues
I'm personally obsessed with just how good Major Leagues latest single 'Someone Sometime' is. They perfectly meld lullaby vocals with crunchy guitars and upper cut bass lines to create something equally gorgeous and grubby. But the melodies in that chorus simply knock me off my feet. Sure they've got heaps of other killer tracks, but I'm going to be holding out for this bad boy especially.
See them:
The Alehouse @ Woolly Mammoth
Thursday, 10th September
10:30 PM – 11:00 PM
Shining Bird
The NSW South Coast act have done something really rare in modern music, in that they've allowed themselves to be directly influenced by their environmental surrounds to source their musical inspiration. The result is the kind of dreamtime pop that hasn't been heard since the likes of Yothu Yindi and the Warumpi Band, but interpreted through new wave and Brian Wilson filters. A truly, truly unique and chanting sound.
See them:
The Elephant Hotel (Outdoor Stage)
Thursday, 10th September
11:40 PM – 12:10 AM
Slum Sociable
Melbourne doom r'n'b duo Slum Sociable make the kind of hypnotic, cinematic music that seems like completely and utterly timeless. It's deeply dark thick, like the blood of a murder victim coagulating as it runs down a sink hole, and yet there're moments that are simply ethereal and stunning. Part of that can be accredited to their use of strong, acoustic sounds using modern production techniques. You know it was made with a computer, but it feels like it was whispered into a gramaphone.
See them:
The Winn (outdoor stage)
Wednesday, 9th September
10:30 PM – 11:00 PM
Sui Zhen
Deconstructed pop is something I have a really strong affinity for – stripping away all the bullshit and just leaving the song's most pure elements and melodies to ring true and bury themself in your consciousness. The music of Sui Zhen is just that kind of arrow head pop, while also absorbing influences of world music and electronica, to produce something of infinite value. 

See her:
Mane Stage @ Woolly Mammoth
Thursday, 10th September
10:00 PM – 10:30 PM
Super Best Friends
Political punk rock is something that has been desperately missing from the modern climate for a long time. Sure there are main stream acts like Rise Against! throwing their fists in the air at very non-specific ideas about politics and injustice, but it's when you get down to the nitty, gritty details that your music actually starts to resonate on a real level. Canberra's SBF tackle local political ideology and injustice with the kind of Fuck The Man attitude that invigorates the soul. But then, they also write songs about all their mates fucking off with their real lives and leaving you to drink at the pub alone. It punches you in the guts on so many levels.
See them:
The New Globe Theatre
Wednesday, 9th September
9:40 PM – 10:10 PM
The Ocean Party
Melbourne via Wagga Wagga indie rock upstarts The Ocean Party have been prolific to say the least – and are set on releasing their fifth album in just a handful of years in October. And just because they pump it out tunes like a factory, doesn't make the quality or individuality of their product in any way reduced. Their latest single 'Guess Work' might just be their strongest release to date – and highlights a band breaking free of the shackles of being lumped in with the dole wave seen and actually forging the kind of pop music that will be heralded for many years to come alongside some of the greatest songwriting this country has produced.
See them:
The Foundry
Thursday, 10th September
8:50 PM – 9:20 PM
The Pretty Littles
I'll be the first to admit that I raised an eyebrow or two when I first saw slacker rockers The Pretty Littles. They had a little too much swagger, were a little too good looking,  a little too confident to my liking. But they're a band that have clearly not arrived fully formed like it might seem, and instead have been gradually cutting their teeth over the last few years playing sweaty bars to drunk fucks, and the hard work has clearly had some pay off, especially when you hear a song like 'Man Baby.' These boys have a lot of potential – they just need to stop making dumb fucking videos first.
See them:
The Foundry
Thursday, 10th September
9:40 PM – 10:10 PM
Tired Lion
Tired Lion have pretty much kicked the door to the industry off its hinges in 2015. The Perth rockers have burned bright in the trail of Violent Soho, with their heavy brand of melodic rock, but they've also got the pop sensibilites of The Metric to put them in good stead to translate their audience from underground to mainstream in a flash. It won't be long until they're conquering Europe and the US.
See them:
triple j Unearthed Stage @ Oh Hello!
Thursday, 10th September
11:30 PM – 12:00 AM
Waax
This Brisbane punk foursome have a jagged edge that cuts deep and raw. They bring a furious intensity to their chaotic brand of rock and roll that drips from the speakers in blood and sweat. It's a nervous, frenetic energy embodied by classic punk bands – are they gonna love you or stab you? Don't know, don't care – I'm jumping in the mosh anyway.
See them:
The Elephant Hotel (Outdoor Stage)
Wednesday, 9th September
8:20 PM – 8:50 PM
For more Bigsound our advice, read our guide on How To Do A Bigsound