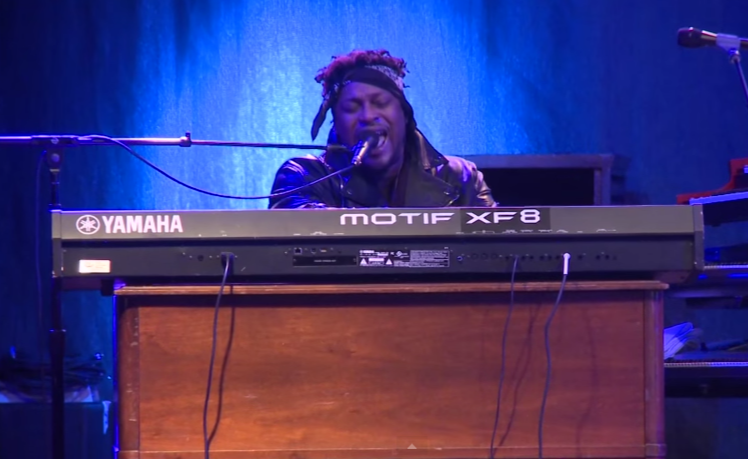 D'Angelo & The Roots show us why Black Messiah was totally worth the wait
---
It's been a few weeks since D'Angelo rendered all 2014 'best of' lists obsolete with the surprise release of his stunning new album, Black Messiah, and for those of you that haven't heard it yet, please, be my guest. I'll wait…
The record is the enigmatic r'n'b star's first since 1999's ground-breaking Voodoo, and it's got many fans and critics alike admitting that in an age where society values nothing more than instant gratification, a 15 year wait was totally worth it for this masterpiece.
Earlier in the year, however, D'Angelo was already mesmerising audiences across international stages (including performing on Australia's inaugural Soulfest bill), the crown jewel of which was a headlining set backed by the legendary Roots crew at Brooklyn's Commodore Barry Park in August as part of AFROPUNK FEST 2014.
The covers heavy show featured D and his longtime producing partner ?uestlove's crew putting a sensual, mesmerising, magical spin on music by the likes of Prince, Funkadelic, and Bob Marley & The Wailers, as well as a masterful version of D'Angelo's own 'Greatdayndamornin" for a performance that AFROPUNK has just recently uploaded for you to watch in its entirety below:
Here is the full D'Angelo & The Roots full AFROPUNK FEST 2014 Set-list:
1. Intro (Third Stone From the Sun Tease)
2. Miss Lucifer's Love (Funkadelic cover)
3. Burnin' and Lootin' (Bob Marley & The Wailers cover)
4. No Head No Backstage Pass (Funkadelic cover)
5. Greatdayndamornin'
6. Our Love Has Died (Ohio Players cover)
7. Thankful n' Thoughtful (Sly & The Family Stone cover)
8. Black Flowers (Fishbone cover) (with Angelo Moore)
9. She's Always in my Hair (Prince cover)
And for those interested in the fascinating story behind D'Angelo's decision to suddenly release Black Messiah in response to the protests over the recent spate of killings of unarmed black men by police in the US, read this amazing New York Times article.