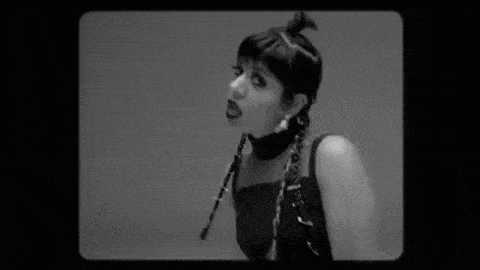 Ya Girl Ecca Vandal Just Dropped A Surprise EP
---
Late last week Melbourne-based artist Ecca Vandal dropped a surprise debut EP. Not only surprising in that no one was really anticipating a release from the pint-sized powerhouse, but also because each track we've heard from the artist so far has been a huge departure from the last. So copping so many new songs at once turned out to be nothing short of an aural orgy. I'll just let that imagery sit with you for a while. You're welcome
The new End Of Time EP boasts three previously unreleased songs in the form of Running At People Exiting, Truth To Trade and Divided, none of which really have a chorus, none of which give any fucks about this. Vandal's carving a very impressive niche out for herself in the rugged Australian musical landscape. Not just because her tracks manage to be mostly unforgettable despite their unorthodox structure, but because she's defiantly dabbling in more genres that you can count on one henna-tattooed hand.
She confirmed her intentions, speaking to Rolling Stone Australia saying that she is "pivoting whenever anyone senses there's a trend…challenging myself to go in a different direction."
The best thing about Vandal is her live show. Absolutely none of this colour comes out in the wash. Check her out on her upcoming headlining Australian tour.
ECCA VANDAL NATIONAL TOUR DATES:
FRI 19 FEB – PARTY IN THE PADDOCK FESTIVAL @ BURNSCREEK, TAS
SAT 20 FEB – JACK RABBIT SLIM'S, PERTH
THU 25 FEB – THE FOUNDRY, BRISBANE
FRI 26 FEB – ROCKET BAR, ADELAIDE
SAT 27 FEB – HOWLER, MELBOURNE
THU 3 MARCH – THE SMALL BALLROOM, NEWCASTLE
FRI 4 MARCH – NEWTOWN SOCIAL, SYDNEY