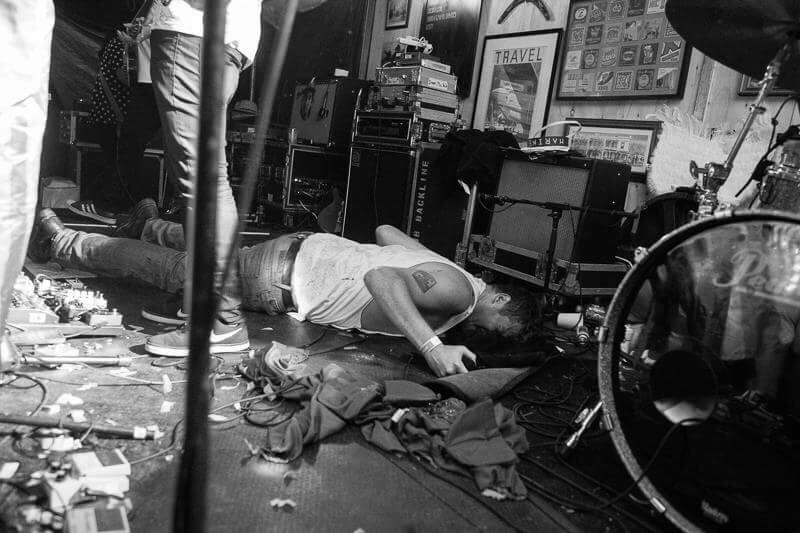 Birdman Pick 15 Songs For An All Australian Tony Hawk's Pro Skater Soundtrack
---
There's a significant chunk of the populace that through the power of one particular Playstation video game franchise learned about some of the greatest alt rock, punk, funk, hip hop and *cough* nu metal *cough* songs ever created.
These were of course the Tony Hawk's Pro Skater games – and through grinds, manuals, kick flips, special moves and secret tape discoveries, we devoured hours upon hours of Goldfinger, Millencolin, RATM, RHCP, The Ramones, The Sex Pistols and pretty much every other pivotal alternative act of the previous 25 years.
Those games and soundtracks still feature loudly and proudly in peoples' hearts today, so when it was announced earlier this year that a THPS Soundtrack cover band would be playing the Secret Garden festival in NSW – people got pretty fucking psyched.
By all accounts that event went off, and now that cover band, with the longest, dumbest pun name ever – Birdman: Or The Unexpected Virtue Of A Tony Hawk Pro Skater Cover Band are set to perform once again, as part of the Vivid Festival Basement Party series in Sydney, next Thursday June 1.
To celebrate this kick flip event, we asked the guys from Birdman to put together a playlist of all Aussie bands for a special, Australian THPS soundtrack, featuring contemporary and classic local acts they think we should all be Sacktapping to (Up, Down, Grab Button for those of you playing at home).
Here are their 15 ace picks.
The Bennies – 'Detroit Rock Ciggies'
If there's any band in Australia right now that sound like the result of three straight days of playing THPS while surviving on nothing but pizza shapes, Melbourne Bitter and punching bongs, it's The Bennies. An obvious #1 choice.
The Peep Tempel – 'Rayguns'
They probably hate the fact that they've been included on this list, that's how much they fucking rule. They'd more than likely prefer us to actually be outside skateboarding while listening to this song, rather than wasting our lives inside like a bunch of deadbeats.
Frenzal Rhomb – 'Punch in the Face'
True story – our guitarist has a A Man's Not A Camel tattoo, and he likes Frenzal Rhomb the least out of our band. They're Australian royalty. Do they have a Lifetime Achievement ARIA yet? They bloody better. Take one off of Tina Arena or Delta or whoever and jam it in their hands!
Mindsnare – 'Bulldozer'
We needed to add some riffs and guts to this list and Mindsnare are a sonic bloodbath when it comes to both. Always a fun moment too when your step dad overhears a song like this in one of your video games and the next thing you know he's making you get a crew cut.
The Saints – '(I'm) Stranded'
Should be the Australian national anthem. What the fuck does "girt by sea" even mean. Pretty obvious we're fucking stranded down here at the end of the world, just trying to keep our heads above surging rental prices and baby boomers telling us where we can't skate.
Press Club – 'Headwreck'
This one's fresh but it's a doozy. These kids just emerged out of Brunswick, the same way as those 10 year old grommets started hitting the half pipe near our local shopping centre when we were 15 and made us realise we were well past it. Australian music industry, you're on notice. These guys know how to bust 360 pop shove its easier than  breathing.
Violent Soho – 'Viceroy'
In the same way that THPS was a gateway to great music for us in the '90s, we're pretty hopeful the insane popularity of VS and their T-shirts will lead kids across our fair plains to learn how fucking awesome grunge, rock and punk music was from the previous era. Plus, they seem like a sick bunch of dudes. Should play more Millencolin covers though.
The Cruel Sea – 'Better Get A Lawyer'
This whole song sounds like Tex Perkins has just been busted for grinding the rails in the Marrickville Metro car park. Thanks a lot, Officer Dick.
Magic Dirt – 'Plastic Loveless Letter'
Adalita needs her praises sung more often in this country. She's a bloody rock god and she keeps churning out amazing albums years after most of her counterparts cooked it and decided to rest on their flimsy laurels. This MD classic still kicks us in the gut today. Just an absolute froff rocket of a tune.
Straight Arrows – 'Bad Temper'
This song has a timeless, reckless, chaotic, loose quality that never gets old with repeat listens. Straight Arrows actually give a good name to super groups, and their balls to the wall slop punk makes the perfect soundtrack to snapping boards / forearms.
Amyl and the Sniffers – 'Stole My Pushbike'
Another fresh cut but what a total cracker. This band sounds like they fell into a time machine in Footscray in 1984 and woke up in hipsterville 2017, assessed the fashion of the people immediately around them, and assumed  they hadn't actually traveled anywhere and just kept rocking the fuck out as per usual. If this song was called 'Stole My Skateboard' we'd probably all get homemade tatts of it.
Clowns – 'Destroy The Evidence'
This band has been steadily building as one of the best live acts in this country in the last few years and their tunes are custom made for searching out secret tapes. Plus, this tour vid looks sick. Feel free to bring us on the road some time Clowns.
Cable Ties – 'The Producer'
Cable Ties are so bloody bad arse. They should inspire more people to get off their arse and go start bands. Obviously they won't be as good or talented as Cable Ties, but if they pick a cheap gimmick like playing songs from a video game soundtrack, they might get to play a few gigs here and there.
Eddy Current Suppression Ring – 'Which Way To Go'
There aren't many bands in the world with a lead singer that wears fingerless leather gloves and still manage to be incredible, but ECSR are true blue legends. "Which way to go?" is also a question we've asked ourselves mid-THPS levels as well. See what we did there? Full circles.
Royal Headache – 'Girls'
Shout outs to the Inner West warriors of Sydney who have arguably been this country's best band on and off for the last seven or eight years. Their music will live on as a time capsule of the culture and climate of life in Sydney during the 2010's and will definitely be a classic for generations to come. We vote #1 for Royal Headache to replace DJ Anthony Albanese when that old rock dog retires from kicking arse in Canberra.
Birdman: Or The Unexpected Virtue Of A Tony Hawk Pro Skater Cover Band will perform at the Vivid Basement Parties: SKATE Or Die! event on June 1 at the Kings Cross Hotel in Sydney. For tickets and info, head here.
And check out the looseness of a Birdman live show below: