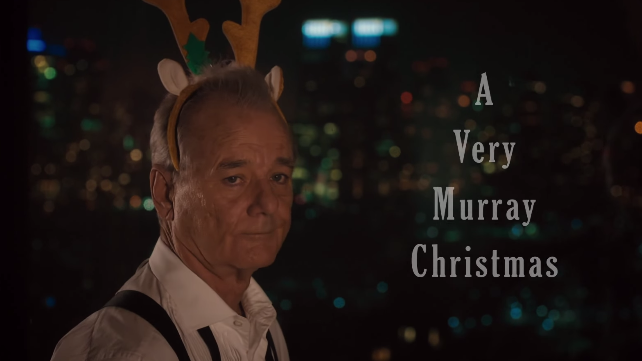 Have yourself A Very Murray Christmas in 2015
---
I think we can all agree that Christmas is a magical time of year.
You've been staying at your parents' place two days too long and their constant nagging and questions over why you don't have a girlfriend again this year make you feel like you've regressed to being 16 years old.
The tension is starting to grow between you and your siblings over the lack of personal space that drove you all insane as teenagers.
You're being forced to spend time with distant relatives you're not that fond of and who are more than likely going to say something inappropriate / racist after three too many sherries.
And when you go out for drinks with your friends from high school for your bi-annual catch up, everyone in the pub is annoying as hell, barely 18, much more attractive than you remember, and still totally out of your league.
Did I say "magical"? I meant fucking shit.
Well at least you know this year's Christmas you won't have to be alone when you wallow in self pity, because this year you'll have Bill Murray right there with you as you try and drink those tears away.
Murray and his occasional film-making partner Sofia Coppola are teaming up in 2015 to bring you A Very Murray Christmas special via Netflix.
Co-written by Murray, along with Coppola and Scrooged writer Mitch Glaze, A Very Murray Christmas will have a story-line revolving around Murray playing himself throwing a Christmas party in New York City, only for a massive snow storm to hit leaving Bill to wonder if any of his guests will ever show.
Judging from the trailer, it looks like it could be an equally somber / hilarious affair. Seriously, all Bill has to do is don a pair of novelty antlers and I'm losing it.
The special will also apparently play homage to old variety shows with a number of guest co-stars, including Miley Cyrus, George Clooney, Amy Poehler, Michael Cera, Chris Rock, Maya Rudolph and Jason Schwartzman.
A Very Murray Christmas will be released in December (der) and I, for one, can't wait to deck The Halls (The Halls are the jerk next door neighbours I grew up next to). This special will also hopefully be amazing.