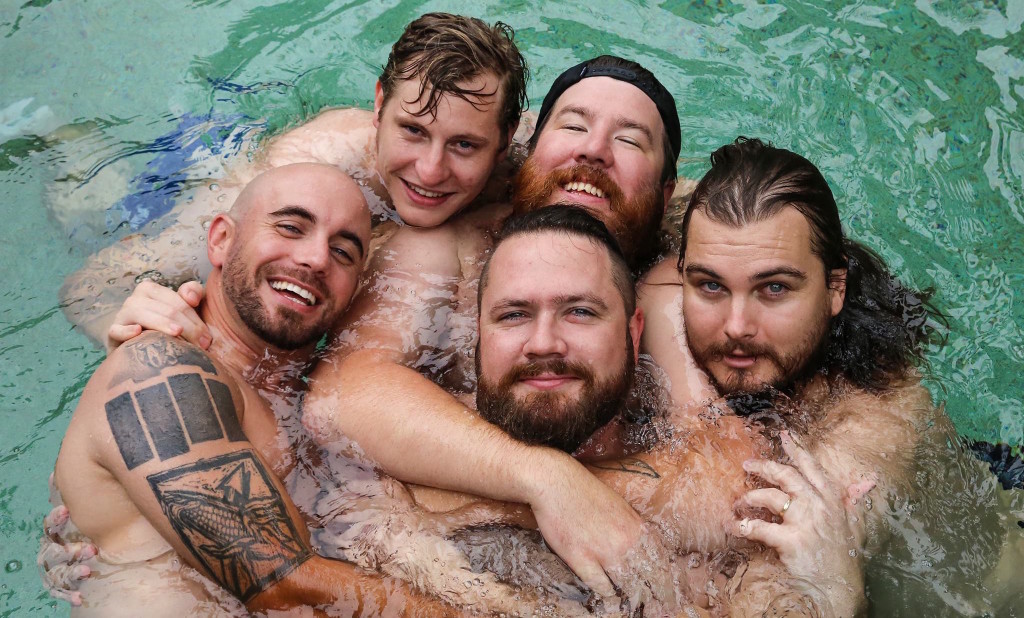 NETFLIX AND CHILL: Pop Culture Picks With Sydney's Totally Unicorn
---
Sydney legends Totally Unicorn probably dropped one of the best local music videos this side of the new year, in anticipation of the release of new album Dream Life on July 29. So it's really no surprise that we asked them to point their impeccable good taste towards our pop culture segment. Totally Unicorn riff man Kerim Erkin pointed out some winners for us…
But before we begin- really- you need to acquaint yourself with this thing…
Star Wars Episode VII – The Force Awakens
I was terrified this movie was gonna suck, however it was AMAZING! p.s. I am one of those people who adopted Star Wars as a religion by the age of 8 and most of my life choices since have been heavily influenced by the teachings of Star Wars. I'm pretty sure I've watched Empire Strikes Back over 50 times by now… It is the beginning of a new era in the Star Wars universe and what a time to be alive, a new Star Wars movie every year for the foreseeable future!
The Infinite Monkey Cage
I've been listening to this podcast for quite a few years now, it makes me feel smart while applying minimal effort… In a nutshell it is a BBC radio 4 series starring Professor Brian Cox and comedian Robin Ince with a panel of guests consisting of two scientists and usually a comedian, but sometimes actors or musicians in front of a live audience discussing a chosen topic for each episode such as "Space Exploration", "Irrationality" and "Maths of Love and Sex". Find it incredibly funny (especially when Robin picks on Brain) as well as thought provoking. I would recommend anyone interested start with series three as it is the first series with a live audience and it gives it a better vibe.
Alim Qasimov – 'Morq-E Saha'
This is a live album and this guys voice is one of the most powerful and beautiful voices I have ever heard. There is something magical about the sound that comes from this man. I grew up listening to Turkish music so I have a natural attraction to Arabic music. This style is called Muğam and is native to Azerbaijan where he is from. Alim Qasimov is only a recent discovery so this specific style is new to me and so far I've only been listening to this live album but I am really looking forward to exploring his entire discography. Recommended to anyone interested in Arabic music or if you are a vocalist of any sort, wait till you hear the pipes on this guy!
'Decks Dark' – Radiohead
I am completely addicted to this album at the moment and I'm not even a diehard Radiohead fan. But this song in particular is rocking my world, especially at 3:23 when those reverb hits kick in! I have no words to explain it… just got dem feels as the kids say these days.
'How Music Works' – David Byrne
It was recommended to me by my buddy from work after waffling on about music every smoke break. I guess he got sick of reminding me to get it because one day it just magically appeared with my stuff when I was leaving work and It turned out to be his copy (which I still have… sorry James), I still haven't finished it! What I have read so far is super interesting. It is kind of a autobiography and a lesson, or rather, observations of the musical world so its got some Talking Heads related stuff in it. It informs as much as it creates more questions. If you are interested in music, music theory and want to read the perspective of a guy who lives and breathes it and has done so for a very long time, this is entertaining and good food for thought.
'Black Mirror'
Wanna freak yourself out about where we might be heading as a species with our fancy technology? Watch this series, its a a modern-day Twilight Zone sort of thing that will make you extremely anxious and paranoid about your life filled with all the devices we have all become reliant and addicted to.
TOTALLY UNICORN 'DREAM LIFE' TOUR
With guests PAGAN
Sun 11 Sep – Weekender Fest' – Reverence Hotel, Melbourne (SOLD OUT!)
Thu 15 Sep – Crown & Anchor, Adelaide
Fri 16 Sep – Babushka, Perth
Sat 17 Sep – Prince of Wales, Bunbury
Fri 23 Sep – Northcote Social Club, Melbourne
Sat 24 Sep – The Brisbane Hotel, Hobart
Thu 29 Sep – Newtown Social Club, Sydney
Fri 7 Oct – Foundry, Brisbane
Sun 2 Oct – Yours & Owls, Wollongong
Sat 8 Oct- The Northern, Byron Bay
TOTALLY UNICORN – 'DREAM LIFE'
Out Friday July 29 via Farmer & The Owl/Inertia