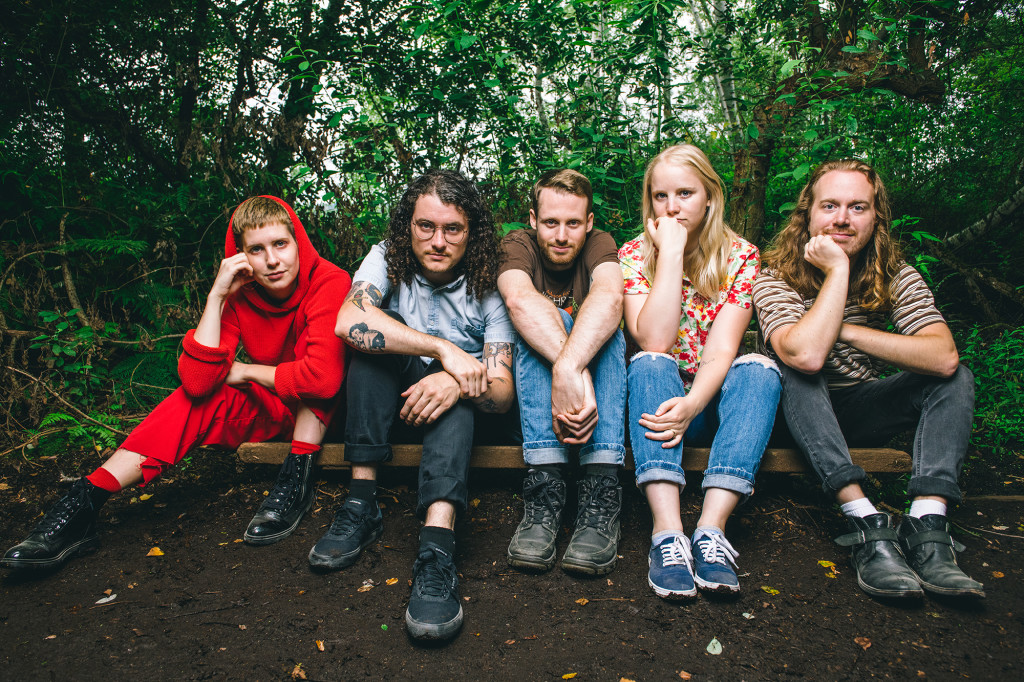 Netflix & Chill: Great Grandpa
---
Seattle indie rockers Great Grandpa are on the verge of something special.
In just over three weeks on October 25, the five-piece releases their highly-anticipated second album – Four of Arrows – and with it take the mantle of one of the most interesting and diverse music makers of 2019.
Having made a name for themselves with the brattish, grungey debut album Plastic Cough in 2017, they've already signified an immense amount of growth and a huge switch in sound across three stunning singles from Four of Arrows –  'Mono no Aware' and 'Digger,' the freshly released third instalment, 'Bloom.'
All three songs are equally captivating and thrilling in their scope, highlighting just how diverse and dynamic the music on Four of Arrows is set to be. Alongside the record release, the band is also hitting the road this summer with indie icons Vivian Girls and Cavetown, so we asked them all the things that is keeping them entertained in the back of the tour van for the latest instalment of Netflix & Chill. The band's guitarist and Seattle-based recording engineer and producer, Dylan Hanwright, gave us the low down.
Podcast – Stuff You Should Know
Stuff You Should Know is in constant rotation on Gramps tours. For the uninitiated, it's basically just two dudes researching a new subject each week and having a well-spoken but informal and unscripted conversation about it. Often it's a subject you wouldn't think twice about (breakfast cereal is one of my favorite episodes) but the hosts Josh and Chuck are so engaging and hilarious that you're completely sucked in. I got my mom listening and it's the first time we've had a shared interest in anything pop culture adjacent, which I'm so grateful for!
TV – Community
Community has always been a top-tier serial show for me. At its base level, the writing is insanely clever and subtly hysterical, but the show's knack for parody and surrealism is what sold it for me. It's a great feel-good show a la Parks & Rec with just the right amount of nerdy escapism for me. Game of Thrones is also a huge deal for this band and we watched it unfold together on tour, right to the bitter end. 
Movie – That Thing You Do
That Thing You Do is GG's #1 flick for sure. It's about a fictional band in the '60s experiencing the rise and fall of being a one-hit wonder (literally their band is called the Wonders / "one-ders") and it's super hilarious and charming. Tom Hanks wrote, directed, and starred in it, and the guy from Fountains of Wayne wrote the song that the band plays a thousand times in the movie. It's a perfect film. 
Music
This is a hard one because I can only speak for myself, but Bon Iver is my GOAT. I don't even have to sell it, Justin Vernon and the gang just create music that compels and moves me to tears, and their new album i,i is no exception. As a band, we're all really into Big Thief and (Sandy) Alex G among many other bands. Third Eye Blind's self-titled is an important record for all of us. 
Books
I don't read as much as I should, but I've made my way through A Song of Ice and Fire while touring. It's my escape from the claustrophobia of the van. Cam and I started digging into Lovecraft's catalog on the last tour—cosmic horror and existential dread are always fun. 
Games
I always bring my Switch on tour, so lately I've only been buying games on that platform. I've sunk more hours into The Binding of Isaac than any other game, up there with Diablo 3. My partner and I play a lot of Overcooked, which is a super goofy cooperative cooking game—we're an unstoppable team. A fond memory I have is being on tour during Thanksgiving — we were in the middle of the country and found a bar that was open in this tiny town, and played this co-op mobile game called Spaceteam for hours, all of us screaming at each other and having a blast.