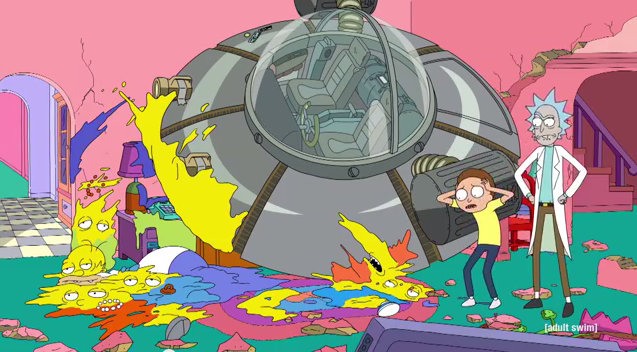 Rick and Morty Season 2 gets a release date
---
Television's most hilarious Grandfather / Grandson, inter-dimensional, Magic School Bus on a bad mushroom trip, animated series, Rick And Morty, has an official release date for Season 2.
The show, which was created by Community genius Dan Harmon and Justin Roiland, and traces the adventures of mad/drunk scientist, Rick, and his hornier-than-hell but sweet-natured grandson, Morty, will return to air on July 26, which is enough time for you to re-watch all of Season 1 and be totally organised with your weed dealer for the first ep.
To celebrate the announcement, Adult Swim released a suitably gruesome/hilarious Rick And Morty edition of The Simpsons couch gag in which they literally (not just comedically) kill the Simpson family, which is apparently set to be the actual couch gag for the May 17th episode of The Simpsons.
Considering this week's announcement that Harry Shearer is leaving Springfield, it's little surprise that old faithful is trying to hitch her wagon to dynamite material like that of Rick and Morty.
Rick and Morty airs on The Commedy Channel on Foxtel in Australia.