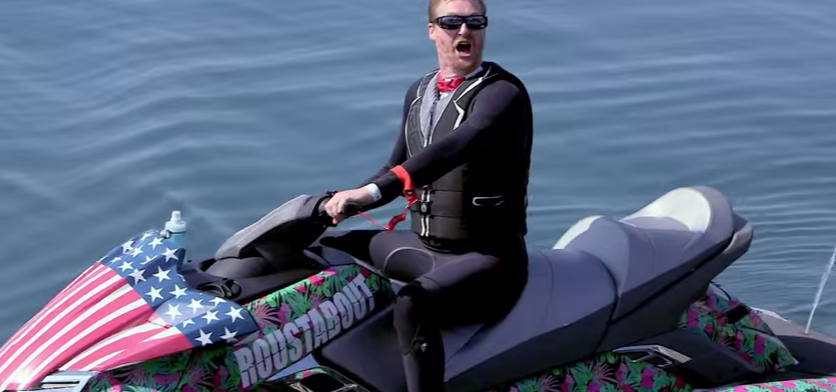 'Roustabout!' shows why you shouldn't piss your wetsuit
---
Kurt Braunohler seems like the kind of guy that would be a regular best man at weddings.
With his affable nature, his big bright face and his goofy grin; he looks like a charming dork that you love to have around to both laugh with and make fun of.
And appearances aren't deceiving when it comes to Braunholer – he literally is a terrific guy, as shown in his new Comedy Central web-series, Roustabout.
The series sees the comic embark on a ridiculous voyage via jet ski across America, all in the pursuit of raising money for charity to send goats and chickens to poor families in Africa.
The nine-part show sees Braunholer joined by other great comedy names (Jon Daly, Kyle Kinane and his comedy partner Kristen Schaal), for the hilarious, poorly-planned, chaotic adventure all in the pursuit of good – forming jet ski gangs, visiting long-forgotten parts of America, and performing hilarious comedy shows along the way.
You also learn about the negative side effects of peeing in a dry wet-suit, visit a nightmare factory, and believe me, by the end of the series, you'll be shouting  "Roustabout!" along with Braunholer, every time he fires up that big river beast.
The entire series is available on Youtube to watch for free, and you can start with episode one  below: