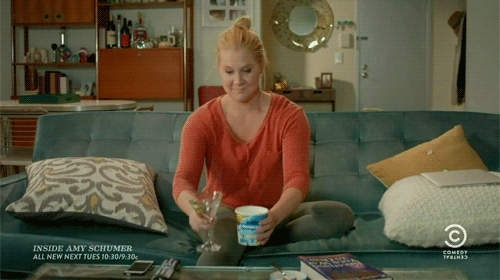 Amy Schumer helps Julia Louis-Dreyfus Celebrate No Longer Being Fuckable. Huzzah!
---
If I could stumble upon anything while out for a walk in the woods-treasures, a magic lamp that grants me three wishes, a new species of spetacularly cute reindeer, a cure for cancer- I think that I would like most to find a picnic in which Julia Louise-Dreyfus, Tina Fey and Partricia Arquette are all throwing back wine and cheese.
This is what happens to Amy Schumer in this genius new Inside Amy Schumer skit. I'd probably watch all four ladies featured here flick through a skymall catalogue on a long haul flight and find it hilarious, but this piece is even more delightful. It casually uses the charm and wit of the team to remind us how brutally female actors are discriminatred against in Hollywood. How they reach a certain age and are suddenly deemed- by the media- to be unfuckable, and thus the range and integrity of their roles are immediately diminished to wench moms with baggy jumpers.
Even more fascinating is the recent reveal at this year's Tribeca Film Festival that it took many years for this concept to come to fruition. Apparently they had been hunting for talent for some time but a lot of actresses said 'no'.
Behold:
This is the thrid video from of the new season of Inside Amy Schumer that we have seen in Australia (you must watch the Milk, Milk, Lemonade and Friday Night Lights skits below) so far and we are absolutely blown away with this chick's form at the moment. It's hilarious to see her ruffling feathers and pissing a bunch of dudes off. And yes, I mean dudes in the male sense. I am very pleased to see men being very uncomfortable with Amy Schumer's comedy. Very pleased indeed.
You can catch up on previous seasons of Inside Amy Schumer on ABC 2. Season 3 premiered on April 21 and will most likely air on Australia's Comedy Channel via Foxtel.