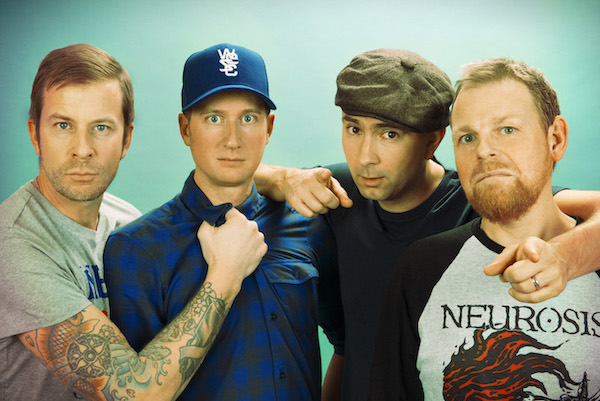 NETFLIX + CHILL: Pop Culture Picks with Mathias Farm of Millencolin
---
Swedish skate punks Millencolin have been making people air punch and get all giddy and stuff for nigh on three decades now.
Guitarist Mathias Färm, apart from being a super cool dude and kick-ass guitar player, is also a touring pro. And we all know that touring is largely about being real good at the ol' 'hurry up and wait' of day to day load in, soundcheck, show time, travel time monotony, so we figured he'd have some tops tips on what to watch/listen to while you're waiting for the band to set out on their 'True Brew' Australian Tour this April. If you've never seen these guys you might possibly not have a good idea of what fun is. Don't miss 'em. All shows selling fast, tickets on sale here, and all dates below. Here goes…
1. I actually watched a really good film the other day, Sicario. I only saw it the other day but it's a great movie and you can see how hopeless the drug situation is in the US and Mexico. And it's kind of weird how bad it's become too, I remember back in 2000 we did the Warped tour in the US and back then you could just take a cab from San Diego to Tijuana in Mexico and go out and drink tequila and take a cab back home. Nowadays it's all different. It's terrible and it's a hopeless situation and I think in that movie you can actually understand that. And Benicio Del Toro is perfect for that role.

2. A documentary on Netflix about people trying to climb Mount Everest called The Summit. It's crazy how many people are dying doing that. People spend US$60,000 to have a go and one out of five dies and a lot of people have to amputate their nose or their hand afterwards. It's very, very, very interesting – the actual climbing is not that dangerous. It's the whole weather situation and oxygen make it so dangerous. I thought it was the opposite – crazy climbing – but they just walk up there. But there's no oxygen so it's so exhausting. It's weird but I guess it's the way human beings function – you have to do stuff like this.

3. A book that I've been reading – the Prime Minister of Sweden Olof Palme – he was murdered in Stockholm 30 years ago and they never caught the guy. It was on the open street, he went to the movies with his wife and he was just shot down and they never caught the guy who did it. It's the biggest police investigation in the world ever. So there's been a lot of stuff in the media here in Sweden about this and I've been reading a book about it and it's very fascinating. They caught one guy who they let loose and a lot of people thought he did it but he was an alcoholic and drug addict and he died, so nobody knows what happened and they'll probably never catch the killer. It's an amazing, weird story and it's such a big tragedy for Sweden in a way, so that's been a very interesting thing for me.
4. A podcast I've been listening to one year too late because everyone has heard it before but Serial. I only just listened to it all and I think it's very, very fascinating. It's kind of slow and weird but very good and I think you should listen to it.

5. Game Of Thrones. The new season is starting in like a month and I've been watching reruns on HBO and I think it's so good. I always liked that kind of fantasy and weird stuff. It's such a well produced show.
MILLENCOLIN 'TRUE BREW' AUSTRALIAN TOUR
With guests GRENADIERS
Tuesday, 26th April – Metropolis, Fremantle 18+
Thursday, 28th April – HQ, Adelaide 18+
Friday, 29th April – Roundhouse, Sydney Lic AA
Saturday, 30th April – Coolangatta Hotel, Coolangatta 18+
Sunday, 1st May – The Tivoli, Brisbane 18+
Monday, 2nd May – 170 Russell, Melbourne 18+ – NEW SHOW ADDED!
Tuesday, 3rd May – 170 Russell, Melbourne 18+ – SOLD OUT!