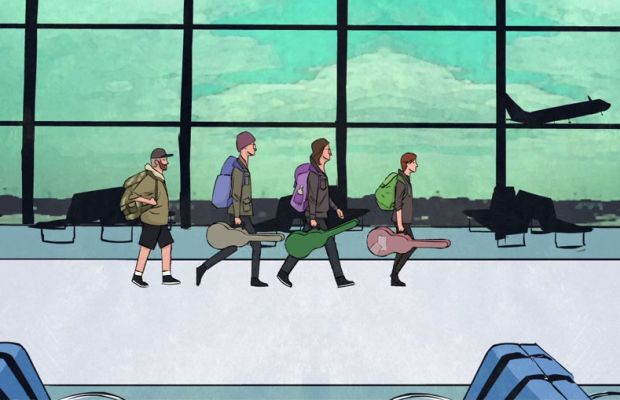 Pup successfully shatter the long-held illusion that touring is heaps fun
---
Touring in a band has to be one of the most over-hyped events of all time.
What seems to be the ultimate lifestyle; seeing new cities, meeting new friends, playing originals in all sorts of weird and wonderful corners of the globe, is not often as it seems. Being a tour manager was once at the very top of my list of 'dream jobs' until I went on just four legs of a local tour and promptly decided that I'd rather swallow a barrel of live ghost moths than endure anything resembling a 4am 'lobby call' ever again.
Candian band Pup have been touring relentlessly since the release of their debut self-titled album early in 2014 (please seek it out, it is very, very good). They even made it all the way down to Australia alongside The Smith Street Band relatively recently which is no small feat for a wee indie band from Canada on the back of their fist album. Dark Days is taken from said album, and the animated video really lives up to it's name. It is a pretty fucking grim depiction of live on the road and what your life looks like when it's eternally lit by iPhone screens with flashing battery symbols and burning, spasming stage lights.
It kind of remains to be seen whether the collection of instagram posts at the clip's conclusion suggests that things really aren't so bad afterall, or a rather poetic way of suggesting that #tourlyf is not all it is often portrayed to be on instagram, no matter how many coooooooool bands on Warped Tour might try and convince you otherwise. Either way, we hope their Australian tour was a brief moment of respite amongst the relentless snow-covered slog that's portrayed here.
Please enjoy one of the most engaging animated music videos we've seen in years:
Pup's debut album 'Pup' is out now via Side One Dummy.